Uphams Corner building named in honor of slain store clerk
By
Mike Deehan, Special to the Reporter
Aug. 25, 2010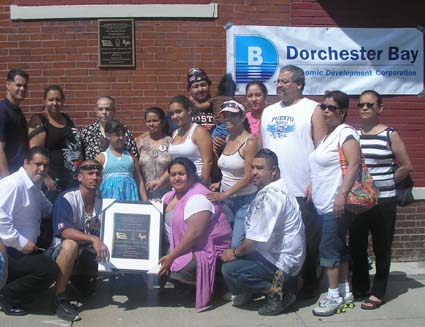 Serrano ceremony: Family of Geraldo Serrano gather around a plaque in his honor last Saturday.The area outside of an Upham's Corner bodega became a place of remembrance Saturday as neighbors and friends of the late Geraldo Serrano gathered for the unveiling of a memorial to the store clerk and neighborhood fixture. A bronze plaque now adorns the southern wall of the building at the corner of Dudley Street and Dudley Terrance, the location of Hermanos Unidos, the store the 71-year old Serrano worked in when he was gunned down during a robbery in February. The building is now named in Seranno's honor as a memorial to his contributions to the community.
Angel Serrano described the memorial for his father with mixed emotions.
"It's emotional and happy at the same time knowing that my father had all the support from the community down here in Dorchester where actually I was born and brought," Angel Seranno said.
"He was than just someone who owned a store, or worked in a store, he was a fixture in the community. He had a very special place in Dorchester," said Dorchester Bay Economic Development Corporation's Daniel Gelbtuch, an organizer of the memorial event.
"By naming this building after Geraldo, his name will be in perpetuity," Mayor Thomas Menino said at the gathering, where neighbors and friends swapped memories of Serrano, who was known by some as the "Papi" of the neighborhood.
After the plaque was revealed, Angel Serrano shared a teary-eyed embrace with his mother Esmeralda Serrano, Geraldo's widow and mother to their nine children.
Gelbtuch said that beyond simply memorializing Serrano's life, Saturday's event also served as a celebration of how residents have responded to the crime.
"Folks have really come together to try to create a safer community," Gelbtuch said. "We need people to step forward to help the Boston Police make things work better for all of us."
Menino praised the community for coming together and working with police in the aftermath of Seranno's murder to help find the culprit.
State Representative candidate Carlos Henriquez, who grew up in the Uphams-Dudley area and knew Serrano, described the clerk's violent death as a huge blow to the community.
"You won't even be able to measure it. Mr. Serrano was a giant in the community," he said.
Representatives from the District Attorney's office and several Boston police officers, including Superintendent Daniel Linksy, attended the memorial.
Angel Seranno praised the speed with which police arrested the two Dorchester teenagers suspected of committing the murder. Police arrested Martin Freels, 17, and Onyx White, 16, shortly after the killing due in large part to tips from residents with knowledge of the crime.
"That was great. That was the best news they gave us," Angel Serrano said of the speedy arrests.
The younger Serrano recommended that other store owners install camera in their stores to help identify criminals.
"I'm still getting calls about my father being missed in this area," Angel said, remembering how his father was "always walking up the street, down the street with a big smile on his face."
Tags: