Grossman plugs small banks into state deposits - Meetinghouse Bank taps in
By
Gintautas Dumcius, News Editor
Oct. 26, 2011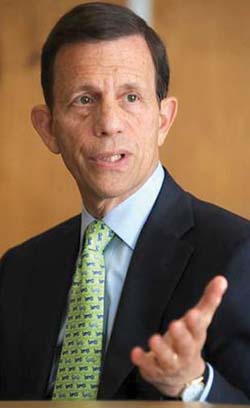 Meetinghouse Bank in Lower Mills is among the community banks signing onto a state Treasury initiative aimed at boosting loans to small businesses by shifting state cash deposits into the banks that are focused on expanding their small business lending.
The bank's president, Anthony Paciulli, met with state Treasurer Steve Grossman last week to discuss the plan and in an interview with the Reporter, Grossman, the state's chief financial officer, said the idea has roots in his 2010 campaign for the job, when he met with local business owners who clamored for access to capital and technical assistance. After he was elected, Grossman said, he found that much of taxpayers' cash is sitting in a market fund managed by Fidelity.
"It turns out a very large amount of that money is sitting in banks and financial institutions outside the United States. Not just outside Massachusetts but outside the United States," Grossman noted, "and I said, something's wrong with this picture. Our own Massachusetts taxpayers' money should be deposited in Massachusetts banks."
His office would later draft a proposal and request comments from organizations like the Massachusetts Bankers Association, which asked that it be kept as simple as possible. Under the program, community banks, which number at 162 in the Bay State, are allowed to take up to $5 million, signing a memorandum of understanding with a two-year term. So far, 31 banks have taken deposits totaling a little over $136 million. An additional 20 banks that have agreed to participate in the program and are in the process of filling out paperwork and getting approval from their boards, Grossman said.
Grossman, who first met Paciulli while on the campaign trail, said he hopes to have over $250 million deposited in banks across the state by early 2012. State Rep. Linda Dorcena Forry, who lives in Lower Mills, set up last week's meeting with Paciulli, Grossman said.
"He's bringing the taxpayer dollars back to Massachusetts," said Forry, who is married to Reporter managing editor Bill Forry. Easier access to capital is one of the top issues she hears as House chair of the Joint Committee on Community Development and Small Business, she said.
Paciulli is working on the paperwork now and said he plans to apply for $1 million. "I was pleasantly surprised as to how uncomplicated they made the program, very pleased with the support they're willing to give as we lend out money in the community," he said.
Paciulli said that within the immediate community, the bank usually loans out $10 million a year, with some of them residential loans.
"I do think it's an excellent opportunity for the state to support community banks and a great opportunity for the community banks to work with the state in getting that money out to businesses in our communities," he said of the program.
"The only limits are, basically, that he has to give us a competitive interest rate on the money, which is about one quarter of one percent right now" and it has to be loaned to small businesses, Grossman said.
The money from the treasury will be loaned to a local start-up restaurant, which is getting built by experienced restaurateurs, according to Paciulli. He is also weighing lending some of the money to a separate start-up business, but he declined to go into details about either plan, citing client privacy.
The maximum loan the bank is willing to make to any single individual is $1 million, Paciulli said.
The individual loans' terms and conditions are set by banks and not subject to a Treasury review, according to the treasurer's office. Grossman said he is also working to get a checkbook outlining state spending online by early December. He acknowledged that information of where taxpayer dollars go is already available on the websites of the Boston Herald and the Pioneer Institute, a local think tank.
"This is a far more comprehensive approach to getting that information and getting it to people in a way that they could use it," Grossman said. "Sometimes you put information out there and it is so complicated, so turgid, so user-unfriendly that people can't use it. And our goal… is to put it up in a way that is very much user-friendly."
His office looked at other states, including Florida, Texas and Alabama, he said. What will go up, likely on the first week in December, will be a "solid first effort," with updates to come later.