Artists of Dot, Unite; Open Studios Weekend: 140 artists at 20 locations
By Chris Harding
Oct. 18, 2012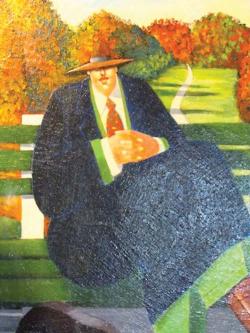 "Half Moon Street," an acrylic on canvas is one of 20+ new works by Dot artist Larry Pierce on display in his solo show at the Great Hall, part of this weekend's 10th anniversary Dorchester Open Studios.
When you see the words "Dorchester Open Studios," do you say a. "What's that?"
"With my crazy schedule… ?"
"How can I see all this great stuff into just two days?"
Organizers of this weekend's sprawling celebration of Dot's visual and performing arts feel they have their best chance ever of converting those category a and b types into category c regulars.
Currently the Dorchester Arts Collaborative (DAC) is celebrating two major achievements and hoping to entice newbies to the local arts scene to sample some of the many free events showcasing the creative spirit of this, the city's largest neighborhood.
First, on October 20-21, DAC is hosting its 10th annual and largest ever Dorchester Open Studios (DOS), with some 140 artists showing at 20 group and solo sites on Saturday and Sunday. According to Andrea Kunst, the chair of the DAC Board, "That's a 41 percent increase in artists and 138 percent increase in sites over last year!"
Some of jump is due to participation by the Howard Art Project in Fields Corner (video, interdisciplinary, experimental) and a large group of artists from UMass Boston, exhibiting in Uphams Corner.
The performance component too has expanded: Friday evening there's cabaret in Codman Square. On Saturday options include afternoon reading programs in Uphams Corner and at the Codman Square Library, and the opening reception at the Great Hall.
Secondly, DAC is announcing the projected January opening of the Erick Jean Center for the Arts, a Codman Square facility that will include gallery, performance, workshop and office space for Dorchester artists (see sidebar below).

Visual Art Wherever You Look
The excellent guide map created by Dot's own Frank Marval (a graphic designer who also did the DOS banners) pinpoints venues and public art/historic sites the length and breath of Dorchester and features photos of all venues. All sites are open noon to 5 p.m. both Saturday and Sunday.
Traditionally the most popular first stop is First Parish Church which hosts some 25 painters, photographers, jewelers and workers in mixed media. On Sunday morning Rev. Art Lavoie gives his traditional Art Sermon.
This year's most unique venue: the kiosks along the Neponset River Trail where Anne Schmalz' beautiful sketches and watercolors of local flora and fauna will change with the seasons.
Also celebrating its 10th anniversary is the Humphrey Street Studios, where the dozens of exhibitors include sculptors, painters, makers of fine furniture and hand-carved signs, even a film scorer and a set designer. Other perennially popular stops are the Pearl Street Studios, The Boston Home ( where many do fine watercolors without using their hands), and the Walter Baker Lofts.

Friday Night Cabaret
On Friday, October 19 at 6:30 p.m. a variety of Dot performers entertain at Dorchester's first Black Box theatre, located behind The Great Hall at 6 Norfolk Street.
The eclectic program ranges from opera singer Amanda Villegas to DPR Dance Crew. It also features talented local singers, songwriters, dancers, and spoken word artists like celebrated Irish Step dancer Kieran Jordan, singer/songwriter Bethel Steele, The Painted Lights' Brendan Little, Joy Daniels and her band, singer and guitarist Brandi Maxam, spoken word artists Stephen Alkins and Christopher Johnson, actress Adobuere Ebiama, Gaitskill Cleghorn, Jr., and DJ Tristram Keefe.

Saturday Readings and Reception
Saturday offers successive reading sessions in two locations. During the first block from 12:30-3 p.m., 16 poets, novelists, short story writers, non-fiction writers and essayists (including local luminaries Christine Casson, Eric Grunwald, Daniel Tobin) will hold forth in the sheltered back courtyard at Humphreys Street. From 3:30-5 p.m. at the Codman Square Library, the Pentimenti Women's Group will read amid locally blown glass objects.
The Opening Reception begins in the Great Hall at 6 p.m., featuring the solo mixed media show by Uphams Corner's Larry Pierce, originally scheduled for the Jean Center.

Schedules and Marval's marvelous guide map at www.dac-online.org.

Erick Jean Center for the Arts set for Four Corners
Thanks to successful grant writing and arduous negotiations, DAC has at last signed a lease with the Codman Square Neighborhood Development Corporation (CSNDC) for 1200 square feet of gallery/classroom/performance space on the ground level of the complex going up at 157 Washington Street, across from the new Fairmont Line stop.
The name for Erick Jean Center for the Arts was chosen by the Codman Square NDC to honor one of its late project managers, a community activist and the first Haitian-American to have his own firm in the downtown Boston area. Codman Square NDC plans to hold events like its "Four Corners Café" there.
Recently Dorchester Center mixed media artist Margery Buckingham spearheaded a successful Kickstarter effort to rise over $ 5,500 to add a small kitchen to the Center, facilitating receptions and workshop clean-ups.
The space is viewable from the outside during Open Studios. DAC's Kunst notes, "We hope to be moved in and running shows and classes by mid-January."