Gov. Patrick brokers loan pool for first-time, low-income buyers
By
Gintautas Dumcius, News Editor
Jun. 13, 2013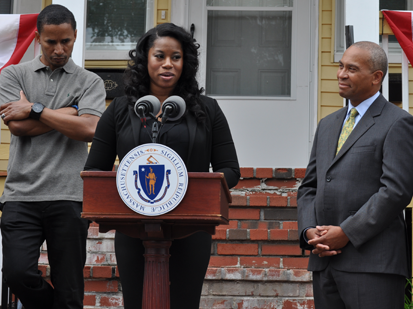 Gov. Deval Patrick this week used a two-family home on Glenway Street in Dorchester to highlight a push for 10,000 loans over a five-year period to first-time, lower-income homebuyers. He also pointed to $1.3 million that is being funneled into foreclosure prevention grants and other programs.
Standing outside a two-story home with yellow vinyl siding, Patrick was joined by the homeowner and administration officials to tout the programs and promote "Housing Week" in Massachusetts. Lenders who are participating in the so-called Home Ownership Compact with the thousands of loans include, among others, Sovereign Bank, Citizens Bank, Rockland Bank and Trust, and Blue Hills Bank.
The Glenway Street homeowner, 29-year-old Rashida Constantine, beamed as the governor stood on her brick steps, with fresh mulch on either side of him. The metal fencing and recycling bins that once could be spotted in the front yard were gone, and under the porch, red, white, and blue bunting was hanging a few feet off the ground.
Born in Barbados and brought up in Brockton, Constantine bought the house five years ago. In 2007, the 5,150-square foot property was worth $412,500, according to city assessing records. It's currently worth $291,400.
Constantine, standing next to her husband Sean, said she has staved off foreclosure in a neighborhood that has been hard-hit by the recession, thanks in part to the Massachusetts Affordable Housing Alliance's first-time homebuyer program. "The only way we could do that was with all the programs you saw today," she said.
"We need to do everything we can to try to keep people in their homes, whether it's loan modifications, short sales, working with homeowners as early as possible," said Housing and Community Development Undersecretary Aaron Gornstein. "And that's why we're announcing these new foreclosure grants."
Eleven regional foreclosure prevention centers and ten first-time homeownership centers will be receiving $1.3 million in grants through the state.
The officials who lined up next to Patrick said the foreclosure crisis is not over, but it is receding.
The press conference drew a crowd of reporters and neighborhood residents. Keith Williams, who lives next door to Constantine in his own two-family home, popped his head out of the window to watch.
Williams, 59, at one time worked for a property management firm in Grove Hall, but had to leave after he started to have seizures and needed knee surgery. Now his wife, Donna, who works at a group home, is the only one fully employed.
Their home, which they bought in 2002, is not available for refinancing, and they're struggling to pay their monthly mortgage. After listening to the press conference, Williams said it was the first time he had heard about all the programs. "We need some help," he said, clutching a card provided by a Patrick administration official with contact information for Barbara Anthony, the undersecretary of consumer affairs. "It's killing us."
Williams said he went down to speak with the governor, adding that he had voted for him in 2006 and 2010, but had only seen him on television. Looking up, he said his roof is leaking. "I don't have the money for a repair," he said, with a hint of frustration and disappointment in his voice, but adding, "It's a nice house in a nice community."