From Holland, a call for information about two Dot men who fell out of the sky in 1943
By
Tom Mulvoy, Reporter Staff
Sep. 25, 2013
B17: Wreckage of the B17 on which two Dorchester men were crew mates after it was shot down on July 28, 1943, near Hoornaar and Schelluinen in Holland. Photo courtesy Peter den Tek
On July 28, 1943, planes from the 407 Bomber Squadron of the Eighth Air Force, US Army Air Forces, set out from their Alconbury, England, air base on a mission to bomb aircraft factories at Kassel, Germany, where the enemy was producing Messerschmitt and Focke-Wulf fighter planes.
Two members of the crew on one of the 407th's B17 planes were Dorchester neighbors, 2d Lt. Albert E. Brown of Nonquit Street in Uphams Corner and 2d Lt. William J. Mahoney of Longfellow Street near Fields Corner.
After dropping their bombs, the group was heading back home when one of the planes was struck by anti-aircraft fire over the small Dutch village of Asperen and forced to leave the formation. It was then attacked by five Focke-Wulf fighter planes and severely damaged. The pilot gave the signal to bail out, which the crew did as pieces of their plane dropped out of the sky and slammed into the muddy reclaimed land beyond the town of Gorinchem.
Two men were killed as a result of the action: Sgt. Robert M. Martin of Greenville, Rhode Island, and Sgt. Jerre M. Algeo of Lebanon, Missouri; Lts. Brown and Mahoney and six others survived their landings and were captured, according to US Army Air Forces records. The Germans placed the Massachusetts men in a POW camp, Stalag Luft 3 Sagan, Bavaria. They were liberated in May 1945 and shipped back home.
Enter Peter den Tek, a Dutchman who this month contacted the Reporter with a request that the paper tell the story of the shoot-down in which two Dorchester men almost perished in the Allies fight against totalitarianism some 70 years ago.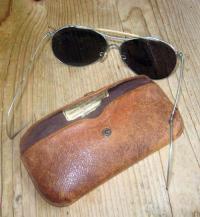 The sunglasses and case shown above were found near the wing section of a B17 that was downed by German fire in Holland on July 28, 1943. Two Dorchester airmen were aboard the plane that day and a Netherlands man is looking for information about them for a memorial he is planning to place at the site. Photo courtesy of Johan Collee
"I feel it is our duty here to keep remembering these men who helped to free us from five years of Nazi oppression," he wrote, adding that he has found and interviewed eyewitnesses who watched as the Allied airmen dropped from the sky on that fateful day in 1943. One of the witnesses, Kees Vermeer, who was 13 years old at the time, wrote down what he saw that day and later in a memoir meant for his family to read.
Den Tek is hoping to talk to family and friends and any others from their Dorchester neighborhoods who maybe can tell him something about Lt. Brown and Lt. Mahoney that will contribute personal substance to the memorial he is planning.
He can be reached online at peter.den.tek@gmail.com. The Reporter will also take information (dotnews.com) and relay it to Mr. DenTek.