It'll take the weekend: a new Clayton St. bridge
By Gintautas Dumcius
Nov. 7, 2013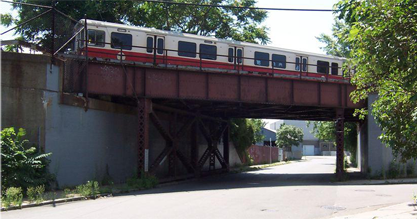 State transportation officials plan to replace the Clayton Street bridge in one fell swoop this Veterans Day weekend, shutting down Red Line service between Ashmont Station and JFK/UMass Station on Friday at 9 p.m. and getting them back in service on Monday at 5 a.m. Clayton Street itself will be closed to traffic until Monday at noon.
The bridge replacement project will be utilizing an "accelerated bridge" technique that allows for the assembly of the new bridge off site. More conventional techniques would have taken months, if not a year, according to Transportation Secretary Rich Davey, who said this is the first time the "heavy lift" has been used on a subway bridge in Massachusetts. The River Street bridge, which is sited over commuter rail tracks, was repaired in a similar manner last year.
Watch: Time-lapse video of a similar bridge replacement done on Woodrow Ave. in 2011. (Courtesy Universal Hub)
After the demolition of the 112-year-old bridge on Friday night into Saturday, a new $5.5 million bridge will be rolled into place down Clayton Street. Davey said he will likely go make an appearance to take a look at the project.
Asked about the amount of money the accelerated bridge technique saves, Davey said the project saves customers time by avoiding several weekends' worth of shuttle bus service. "The real savings is the time our customers will save by not having to have endless bus shuttle service on the weekends," he said.
On a separate local issue, Davey said the state does not have a timeline for putting in place diesel multiple units, also known as DMUs, along the Fairmount Line. Gov. Deval Patrick's administration is putting out a spending plan at the end of the month. "More to come, I would say, on DMUs," Davey said of the units that would essentially bring subway service to the commuter rail. Instead of six- to eight-car trains that take longer to start and stop, DMUs would have two- or three-car trains that move quickly. "That's the real magic of DMUs," he said.
"If we're going to transform the Fairmount Corridor as a place to live and work… waiting a train every hour and a half isn't helpful," Davey added. Potential service every 15 minutes, along with weekend service, would make a huge difference, he said. "That could be a real game-changer. And that's what DMUs allow us."
Late last month, Patrick, who is winding down his tenure as governor, announced upgrades to the Red and Orange Lines in the form of 226 new train cars. "Growth requires investment, and these projects will catalyze growth in greater Boston," Patrick said in a statement. "If we want to expand opportunity in our commonwealth, this is what government must do and do well."
Tags: