Menino sends long wish list to legislators
By Gintautas Dumcius
Jan. 17, 2013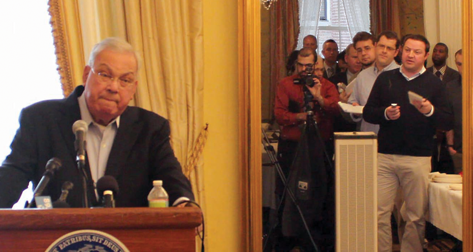 Touching on education reform, sentencing legislation, and neighborhood issues like "problem properties," Mayor Thomas Menino this week rolled out 49 bills he'd like to see passed at the State House. Nearly half of the bills are new, with legislation eliminating a cap on in-district charter schools and extending the school day at the top of the list.
The bills were unveiled Tuesday at the Parkman House, where the mayor is staying as he recovers from hospital stays that weakened his legs. The city-owned property, blocks away from City Hall, has an elevator.
Menino is proposing a sentencing reform bill that keys on legislation focusing on habitual offenders that Gov. Deval Patrick signed into law last year. Menino's bill calls for stricter sentences for repeat firearm felonies and a reduction in mandatory sentences for low-level drug offenders. A separate bill he's filing would establish a gun offender registry, similar to ones in New York and Baltimore. The mayor acknowledged that Massachusetts has tough public safety laws. "Our package reinforces some of those laws we have," he said.
The Menino administration is also focusing on "dangerous dogs," offering a bill that would loosen a 2012 law that prohibits cities and towns from imposing breed-specific regulations. District 5 City Councillor Rob Consalvo had pushed through a city ordinance focused on pit bulls, but it was negated by the state's 2012 animal control law. The mayor's bill, which would give municipalities the ability to opt out of the 2012 law, is likely to encounter resistance from some dog owners, including Dorchester activist Joyce Linehan, who is lobbying state lawmakers to oppose breed-specific regulations because it unfairly targets pit bulls. (See commentary, page 8.)
State Sen. Michael Rush, a West Roxbury Democrat, said he supports the bill. "Municipalities should have some discretion," he said.
Another Menino bill focuses on "problem properties." According to the mayor's office, the legislation would authorize municipalities to "more effectively" collect fines from property owners who do not respond to requests to fix blighted properties. Under the bill, municipalities would also be able to go to court to force an owner to fix the property. Menino has set up a 14-member "problem properties" task force that, through an ordinance passed by the City Council, is able to levy penalties against absentee landlords who neglect their properties.
The filing deadline for Beacon Hill legislation is this Friday, Jan. 18.
After addressing reporters and taking questions, Menino sat in a chair in the Parkman mansion's reception area, chatting with Boston lawmakers who came over to speak with him, including Sen. Sonia Chang-Diaz and Rep. Jeffrey Sanchez, both Jamaica Plain Democrats. Members of Menino's cabinet milled about, speaking with lawmakers and reporters.
Before they headed over to meet with the mayor, Boston lawmakers unanimously voted to tap Rep. Nick Collins (D-South Boston) as chair of the delegation. Tradition dictates that the slot is given to a lawmaker who doesn't hold a leadership position. The chair often coordinates legislation and budget issues with members and City Hall officials. The delegation, the largest in the State House, is made up of 23 elected officials, including Belmont's state Sen. William Brownsberger, who picked up a small part of Boston in last year's redrawing of legislative districts.