New eatery offers hot dogs, soul food in Adams Corner
By Bill Forry
Oct. 10, 2013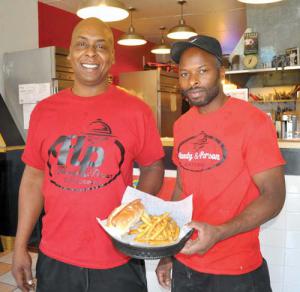 Hardy & Person Catering: Jonathan Hardy and Kari Person are the operators of a new restaurant at 787 Adams Street that specializes in gourmet hot dogs and soul food. Photo by Bill ForryWill gourmet hot dogs and soul food be a hit in Adams Corner?
A pair of neighborhood natives think so— and they're putting their combined culinary skills to the test with the opening of Handy & Person Catering, a new eatery that celebrated its grand opening last Saturday. The restaurant — nestled between the Beach House and the Hair Image salon at 787 Adams Street— fills a previously unmet niche in a busy district that already boasts a slew of established lunch and dinner spots.
The partners in the operation are Jonathan Handy, 40, and Kari Person, 38. Both men grew up in Dorchester and attended Jeremiah E. Burke High School. Both men have extensive experience in working in kitchens around Boston— from fast-food to Legal Seafoods. The two met a few years ago through mutual friends and decided to combine their shared passion for food by opening a hot dog cart in the North End.
"The funny thing is that when we started the hot dog cart, the city said, you can only do hot dogs," explains Handy. "No sausages, nothing else. So we decided to take the standard hot dog and make 15-20 different styles: chili dogs, pizza dogs. Our signature is the brushetta dog— which was a big hit in the North End."
Handy and Person use only Pearl hot dogs— which come in two different sizes— and are produced locally. In fact, the meats at one time were manufactured on Quincy Street, not far from where the two men grew up. The company has since relocated to Randolph, but the entrepreneurs like the idea of buying local. Plus, they say, the Pearl is an excellent product.
"That's what really makes it. Everyone is looking for that snap," says Handy.
"We make everything fresh right here— from the baked beans, the mac and cheese," explained Person, who was trained as a chef at the Cordon Blue Institute and used to run his own food truck, Gourmet Fingers.
Handy and Person say that they have already been warmly received in Adams Corner and were "slammed" with customers during their official opening weekend. One of the dignitaries who helped celebrate their opening was State Rep. Marty Walsh. In turn, the entrepreneurs have named a new menu item after the hometown mayoral hopeful. The "Walsh dog" is served with onions, relish, mustard and ketchup with a side of fries.
"The neighborhood turnout was amazing- we were really surprised," said Handy. "Everyone here has been great, because they see that we're not about stepping on toes. We're not doing pizza or sandwiches. We think we'll fit in great here with the mix of stores. If you want hot dogs and soul food, you'll come to us."
Among their menu offerings on the soul food side are chicken and BBQ ribs served with corn bread and two sides, including candied yams, mac and cheese and fried corn.
Handy & Person is closed on Sundays. Their business hours are presently Monday-Thursday, 11 a.m.-9 p.m. and Friday-Saturdays 11 a.m.-11 p.m. The store has limited seating and is mainly a take-out service. The restaurant can be reached by phone at 617-379-3749.