A new sheriff checks in; Tompkins 'right man at right time,' says Patrick of Cabral's successor
By Gintautas Dumcius
Jan. 24, 2013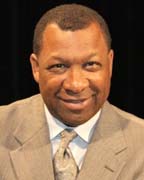 Steve TompkinsAndrea Cabral's top spokesman has taken over as the sheriff of Suffolk County. With Cabral signing on as Gov. Deval Patrick's public safety and homeland security secretary, she and Steven Tompkins, chief of external relations at the Suffolk County sheriff's office, were sworn into their offices at the State House on Tuesday by Gov. Deval Patrick, who called Tompkins the "right man at the right time."
Tompkins said he grew up in Harlem in a family that was on public assistance.
"I went through that school of hard knocks, and here I am standing with the governor being sworn as sheriff," he said. After Patrick administered the oath of office, Tompkins smiled broadly and bumped fists with his eldest son.
He previously held communications jobs at Dimock Community Health Center, AT&T, and the Federal Emergency Management Agency (FEMA).
The Suffolk sheriff, one of fourteen in Massachusetts, oversees the largest sheriff's department in the state, which includes the County Jail, the County House of Correction, and the Civil Process Division, according to the office's website.
Tompkins took a leave of absence from Cabral's office in order to work on US Sen. Elizabeth Warren's 2012 campaign as a senior adviser. He is also listed as the chair of Michelle Wu's bid for a City Council At-Large seat. Wu attended the swearing-in, as did Roger Lau, a Warren campaign aide who was appointed her state director.
Tompkins will fill out the rest of Cabral's term, with an election slated for 2014, when it is expected he will run for the office.
Patrick called Tompkins a "dedicated public servant. At the press conference that followed the swearing-in, the governor acknowledged the slot is a "political job." He declined to delve into who else was considered and the candidates' law enforcement background. "I think we have the right guy," Patrick said.
Cabral was appointed in December, and Patrick administration officials were tightlipped about potential successors in the weeks between her appointment and her swearing-in.
In its announcement of Tompkins's appointment, the administration included quotes from supporters, including Boston Police Commissioner Ed Davis, Boston NAACP President Michael Curry, UMass Boston Chancellor Keith Motley, and District 6 Councillor Matt O'Malley. "I think that the transition will be seamless and I am looking forward to working with Sheriff Tompkins," Davis said.
According to the Suffolk County sheriff's website, Tompkins's department created two programs, including an inmate re-entry program focused on vocation skills and "The Choice Program," in which corrections officers volunteer to work with middle and high school students.
A graduate of Boston College, like Cabral, and holder of a master's degree from UMass Boston, the new sheriff lives in Hyde Park with his wife and two children. He also serves on the board of trustees for Roxbury Community College.