Newcomer Essaibi-George grabs 7th spot in at-large race
By
Dave Eisenstadter, Special to the Reporter
Sep. 26, 2013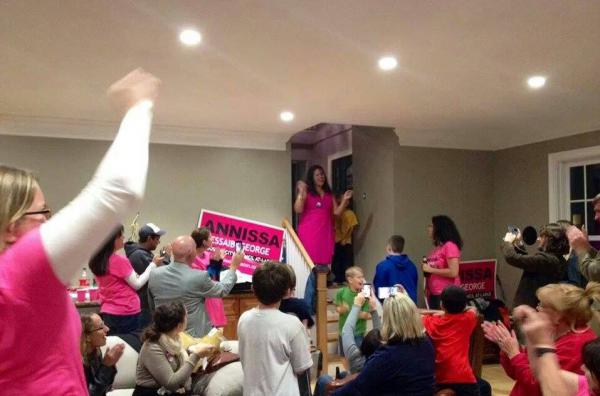 It was as a mother that Annissa-Essaibi George campaigned for an at-large City Councilor seat. And it was as a mother that the Dorchester resident made her victory speech.
One of her triplets, seven-year-old Charlie, made the announcement – "Annissa was in the top eight… She finished in seventh place!"
The small business owner and mother of four – 7-year-olds Charlie, Kayden, and Samir, and 8-year-old Douglas – will go on to the November election. She celebrated at her Mayhew Street home with dozens of supporters, among them a fair number well below voting age.
"The [Boston] Globe said I was an unknown and didn't have the base to get into the top eight," Essaibi-George told supporters. "I say to them – 'Ha!'"
While Essaibi-George was proud of the achievement, she knows she has a lot of work to do to catch the leaders, among them top vote getter and incumbent Ayanna Pressley, also of Dorchester.
Essaibi-George received 12,236 votes, wracking up 4.77 percent in the crowded field, according to the unofficial results at cityofboston.gov. The top four, by contrast, all received more than 11 percent of the votes.
Anticipation was high in Essaibi-George's new family room Tuesday night, though you would never know it from the children running around playing with plastic swords and jumping on the couches. Essaibi-George's campaign staff, made up of her closest friends and family, had to wrest the television away from a group of them that had turned on a video game instead of the news.
Throughout the house, everything was covered in pink, Essaibi-George's campaign color, with supporters sporting pink "Annissa" shirts.
As the vote totals came in, supporters drank beers and ate meatballs, going over the days campaigning in their minds.
Melissa Driscoll said she has been involved in every Election Day for City Council in recent memory because her family has a history of political involvement.
She supported Essaibi-George because she was a friend and because she had "a crazy idea."
"She has four young children, she's a mom, she's a business owner, and she's going to drop it all for something bigger for her family, for her neighbors, and for the city she loves," Driscoll said.
With all the energy surrounding the mayor's race, Driscoll said many weren't paying attention to the at large council races, but she said she was definitely able to convince some on Election Day.
Driscoll showed up late to the party as she was working the polls right up until they closed at 8.
Jeanne Dasaro, one of Essaibi-George's employees at her Dorchester business Stitch House, also worked on her campaign as a communications manager. Throughout the evening, she refreshed her phone to get the latest election numbers.
Dasaro's mother, Dottie Dasaro, also took to the polls, bringing her dog Chauncey and fitting the animal up with its own "Annissa Essaibi-George for Boston City Council at-large" tag.
"The dog was a conversation piece," the North End resident said. "But I used to be a bar tender and I can talk to anyone."
Neither Dasaro had ever been involved in a campaign before, and both found it an intense experience. The younger Dasaro coordinated community events and calls and her mother greeted a steady stream of voters on Election Day, though she said she expected turnout to be higher.
Essaibi-George, a first-time campaigner herself, said the day was a long one.
"Today there was no break, it was go-go-go," she said before the final votes were tallied. "Right now I am numb, my body is exhausted, but I am anxiously optimistic. It is cool to be at this point."
As the evening progressed, media organizations called the Mayor's primary race for Martin Walsh and John Connolly. Most in the room were supporters of Walsh, who grew up on the same street as Essaibi-George.
"It's a great night for Taft Street," said Kevin George, Essaibi-George's brother-in-law. "Annissa and Marty both grew up there."
Neighbor Rosemary Pessia also supported Walsh and Essaibi-George, both by holding signs and by casting her ballot.
"This is awesome, I got to vote for two good friends today," she said.
Essaibi-George's family members surrounded her and made up a significant portion of the party. She is one of four siblings and her husband is one of six.
Sonia Essaibi, her sister, said she knocked on doors and held signs and spent Election Day at the polls.
"I knew she always wanted to run and she know what she could offer this city," Essaibi said. "And because of the mayor's race, there has been a complete shake-up."
While children were everywhere, Essaibi-George's supporters varied wildly in age. Eighty-four-year-old Bill Cannon held signs for 13 hours, greeting at least 700 voters, he said.
As the totals came in, Essaibi-George thanked her husband Doug along with her many grassroots supporters.
"With all the experience, with all the knowledge, with everything I've done in my life, I'm still seen as an incredible underdog," she said. "It means in the next six weeks that we just have to work as hard as we did today and prove everyone wrong – that a girl from Dorchester that has a very regular life, that has a wonderful life, can actually make a difference in this city."
She also had a few fighting words for fourth place finisher Michelle Wu.
"I'm going to show the city how some real tail gets kicked, and I'm not going to be outdone by any girl from Chicago," she said.
After her speech, she headed to the food table, where she cut her victory cakes. This made her children the happiest of all.
Tags: