'Sisters of Color' rally around bomb victim Mery Daniel
By
Brianna Macgregor, Special to the Reporter
Jul. 17, 2013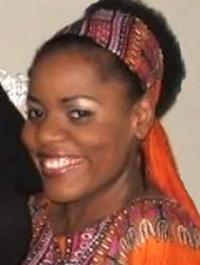 The April 15 terror attack on the Boston Marathon left a scar on neighborhoods well beyond the Boylston Street bomb sites. While much of the media focus is now on the upcoming trial, victims are still dealing with the long-term repercussions of that day.
Mery Daniel, a former Mattapan resident who lost her left leg and sustained serious damage to her right leg when one of the bombs detonated, has seen the staggering medical bills pile up over the last few months.
A grassroots organization based in Dorchester, United Sisters of Color, is collaborating with three Boston event planning and promotions companies to host a "Mixer4Mery" benefit this Thursday night, July 18, from 6 - 10p.m. The event will be held at The Ledge in Lower Mills at 2261 Dorchester Ave.
Daniel, who had studied pre-med at UMass Amherst and was pursuing her dream of becoming a doctor at the time of the bombing, has come a long way since emigrating from Haiti 14 years ago, when she was just 17. Now, she is using the same energy and focus to put the past behind her and live her life.
Daniel, 30, is currently undergoing prosthetics training to learn how to use her recently fitted prosthetic leg, and though she said the process is difficult, she is determined to push through.
She did not attend the arraignment of the surviving bombing suspect Dzhokhar Tsarnaev last week in South Boston. Daniel said she is not interested in following the trial. "I'm putting all of my energy into recovery, and doing things that make me happy," she said. "I'm trying to figure out how I move on with my life."
Throughout the recovery process, Mary has tried to focus on the positives. "I've learned about humanity - how people come together during a crisis - and about humility," she said. "To be completely dependent on other people, and to let yourself be vulnerable, is very difficult."
The organizers of Thursday's benefit are enthusiastic about helping someone from the community.
Liz Miranda of DSTination Lifestyle said that, as time passes and public attention shifts to Tsarnaev's trial, people should keep the victims in mind.
"We want people to remember that real people were hurt, and real lives were changed," said Miranda. "This [mixer] is an opportunity for people to experience a real-life connection to what happened that day, and to support someone from the community."
"We've worked with the United Sisters of Color before, and we knew about Mery's story," said Dominique Gutierrez of Twins & Friends.
"We were really excited to work on this event."
The event organizers hope to have about 100 people in attendance at the mixer.
The United Sisters of Color also hosted a Run4Mery on June 30, an event that raised about $2000 and gathered over 60 people for a 5K run. Anjela Childs, co-founder of the United Sisters of Color, said that she wanted to support Mery as a part of her organization's mission to bring the community together by helping locals in need.
"[I was] completely shocked that I had not heard [Mery's] story," wrote Childs in an email. "I felt the need to do something so I contacted her cousin and asked her what she felt Mery needed the most from us. After a lengthy conversation, I decided to have Run4Mery 5K. It just made sense."
Daniel said she hopes to attend the event on Thursday night, though her schedule is constantly in flux and full of medical appointments. Though the steep stairs in her Mattapan apartment forced her to move out of the neighborhood, Daniel said she is touched by the community's generosity.
"That should be the spirit of a community," she said. "It's not something I was expecting. They're going out of their way to help me, and I'm full of gratitude."
The event organizers are asking for a $15 donation at the door on Thursday night, and everyone is welcome. To contribute to the Mery Daniel recovery fund, visit gofundme.com/meryrecovery.