Steeple lift-off set for Tuesday at First Parish
By Bill Forry
Jul. 31, 2013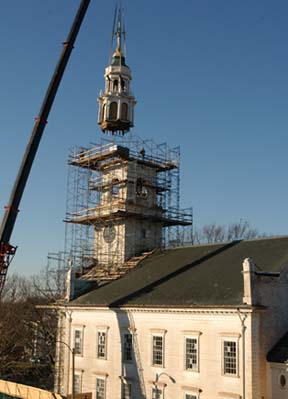 First Parish steeple comes off in 2006: The church has undergone extensive renovations since this photo was taken. On Tuesday, the rebuilt steeple is scheduled to be craned back into place. Photo by Bill ForryThere's a new lift-off date for the First Parish Church steeple: Tuesday, August 6. The steeple — which was taken down from the historic structure as part of a massive renovation project in 2006— has been carefully rebuilt on a vacant lot across the street from the church atop Meetinghouse Hill.
Church officials say that the steeple will be craned back into place on Tuesday morning, with work beginning on the Parish Street location around 6 a.m. "The steeple should be flying between 10 a.m. and noon," according to a posting on the church's Facebook page this week. Above, a view of the steeple as it made its careful descent in November 2006.
Parishioners and neighbors will gather in James K. Allen Park across from the front of the church to watch the event, which include a 9:30 ceremony in which a "time capsule" will be installed in the rebuilt steeple. Visitors are advised to bring blankets, lawn chairs, beach umbrella's etc if you plan to watch the lift-off.
Here is an updated schedule released by the church on Monday:
6 a.m. – Parish Street closed.
6:30-8:30 a.m.– Crane arrives and is set up.
9:30-10:00 a.m. – Invocation, and material placed in time capsule at top of steeple mast.
10:20 a.m. – Final testing by structural engineer.
10:30 a.m.-1:00 p.m. – Steeple lifted to top of church and secured to belfry roof.
Tags: