They made a difference: People who made us better in 2012
By Bill Forry
Jan. 3, 2013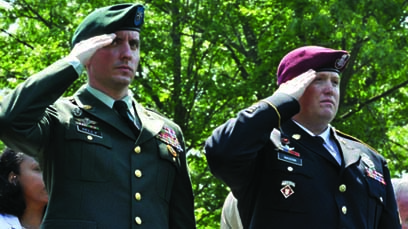 There was plenty of sad news to share in 2012— but the Reporter's pages were also filled with stories about people who made us proud to call this neighborhood home. Here's a look at some of the standouts who appeared in our pages over the last 12 months. Click on each headline to check out the original story from the past year.- Reporter Editors
Young vets stepped up— again— to lead
Lt. Greg Kelly and Dan Magoon, combat veterans and Boston firefighters, are leading the charge to build a memorial to the men and women from Massachusetts who've fallen in Iraq and Afghanistan since 2001. They have also stepped up to lead the Neponset VFW Post next to Garvey Park, hoping to make the post a destination once again for a new column of returning servicemen and women. Kelly, 36, has served in the Marines and in the Army in both Iraq and Afghanistan, including a tour that took him away from home for most of 2011. Lt. Kelly was the keynote speaker at Cedar Grove's Memorial Day observances in May.
"The soldiers and servicemen and women have a set a great example for us," Kelly told the Reporter in May. "They volunteered in a time of war and they lost their lives doing it. That example of selflessness is something that every Bay Stater should feel obligated to help us honor."
Bowdoin Street doctor inspired and led youth

Dr. Alphonso BrownDr. Alphonso Brown, a gastroenterologist at Bowdoin Street Health Center, mentored 11 local high school students through his groundbreaking ICAN Medical Scholars program. Geared towards students who want to pursue a career in medicine, the program meets for three hours every other Saturday at the health center. Dr. Brown has devised a three-year curriculum that focuses on clinical diagnosis, patient interviews, community-based health services research, medical ethics and the Hippocratic Oath. The students also receive help applying to and succeeding in college, SAT prep, lifetime mentoring and career counseling.
Dr. Brown's own personal life inspired ICAN. With a younger brother who was sick most of his life and parents who did not have a lot of money, he wondered how he could help.
"The result was to try and become a physician," the 44-year-old New York native said. "I didn't want socioeconomic status to be a barrier."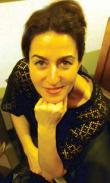 Liz CarneyNative daughter Liz Carney takes up DotArt challenge
Savin Hill native Liz Carney took charge at the Dorchester Community Center for the Visual Arts, or DotArt, as its more commonly called. After a year-long search for the right match, the non-profit center found the perfect fit in Carney as the new executive director.
"It feels like the right time for me to continue his personal mission," Carney said. "It felt like a real coming home when I saw my business card with his logo on it. It made me have that moment of saying, 'This is the right place for me to be.'"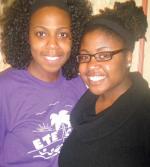 Gilbert Sisters: Sisters Shaina and Gabriella Gilbert Gilbert sisters excel in classroom, as mentors
Sisters Shaina and Gabriella Gilbert have spent the last three years volunteering at a camp that Shaina created in Haiti. Gabriella started at Columbia University in the fall, while Shaina is presently pursuing a Master's degree at Boston University. The Mattapan sisters are six years apart in age, but they share the same passion for scholarship and volunteerism. The sisters traveled back to Haiti this summer for the camp's fourth year, serving and teaching over 120 students. One of the Gilbert sisters' biggest influences has been their father, who a longtime Boston Public School teacher."We took school very seriously because we knew it would shape our futures. So we took that to heart and tried our best in school," she said.
Herb BermanHerb Berman: Dot's Mr. Postman; at 85, still delivering the goods
Nothing can prevent Dorchester's own Mr. Postman, Herb Berman, from working his route five days a week while enjoying his life and his close relationships within the community he serves. Berman, a gregarious family man who turned 85 this month, has been delivering mail for the Postal Service for 52 years, beginning in 1960. He has been on this Dorchester beat since 1990, but he doesn't just drop off the mail at homes and businesses; he also picks up endearing friendships at nearly every stop along the way.
"I could not be in a bad mood here," said Berman from his seat at Gerard's in Adams Corner. "I call it God's little acre."
Pee Wee A team, DYH 2012
Pee Wee A's made Dot Youth Hockey proud
The 14-player Dorchester Youth Hockey Pee Wee A team, led by Coach Richard Heap, won the state championship this St. Patrick's Day weekend in Marlborough, taking their 27-1-1 record against the best Pee Wee teams in the state. The team went 5-0 during three days of tournament play to capture the state banner.
The roster included Cullen Burke, John Connolly , John B. Driscoll, Travis Heap, Ryan Joyce, Brendan Mannion, Donovan J. Mannion, Sean Mannion, Sam Mastrogiacomo, Jack McCarthy, Dylan McDougall, John T. Murray, William Penella and Kyle Pizzarella. Coach Heap has been assisted this year by Phil Mastrogiacomo and Steve Pizzarella.
Dot's own playwright O'Neill made an impression

Catherine O'NeillCatherine O'Neill, the Lower Mills native who now lives in Savin Hill, had a big year in 2012. The longtime campaign operative-turned-playwright staged her first-ever play— a political drama titled 'Murph' — at the Boston Playwrights' Theatre in April. References to Dorchester are sprinkled throughout the dark drama: State Rep. Kevin Murphy, played by Robert Pittella, notes that he gave his first political speech at the Dorchester Post.
"These characters are composites of people I've been in political foxholes with," O'Neill told the Reporter last year as the play was going into production. "Nobody's safe."
O'Neill played a highly visible role of her own for a real-life politician in '12. Catherine was an early supporter of eventual Senate winner Elizabeth Warren and was featured in the candidate's TV and radio ad spots throughout the year.
Harvard St FirehouseFirehouse gets new shot at life, thanks to artistic duo
Katherine Bergeron and her partner, Stephen Frederick purchased the historic but endangered Engine 18 firehouse on Harvard Street near Four Corners with an eye towards renovating the circa 1869 building for use as their home and, eventually, for performances and exhibit space. The sale has been cheered by neighbors and preservationists, who have worried that the landmark brick structure might become too decrepit to save without a swift intervention.
Bergeron says that neighbors on Harvard Street and the nearby side streets have been "really supportive."
"Obviously in Boston, we have a lot of culture and museums, but there's not as many small spaces that people can go to that's interesting. People don't know enough about the small culture. We're really excited about being able to do that."
'Mob' put welcome spotlight on local businesses
The Dorchester 'Cash Mob' put a local stamp on a national trend in 2012. Organized by Lower Mills insurance agent Carlos Vargas and social media guru Larry Marino, the Cash Mob was instrumental in driving scores of new customers through the doors of local businesses last year. One notable "hit" came in April at the The Dorchester Ave. store, A Sweet Place, on April 16. Executive Director of Fields Corner Main Street Evelyn Darling said many people in Dorchester did not even know the business was there until the hit happened. This event helped "create a buzz", she said.
Little Miss Dorchester Delia O'TooleDot Day ambassadors shined
Delia O'Toole, 7, of Cedar Grove and MyChalia Sanfilippo, 12, of Ashmont, were crowned Little Miss Dorchester and Young Miss Dorchester, respectively on May 5. O'Toole, now a second grader at Neighborhood House Charter School, enjoys Irish step dancing, playing softball for Cedar Grove' Baseball's T-Ball, and reading. Sanfilippo, then a sixth grader at Richard J. Murphy School, enjoys reading, gymnastics and playing volleyball.

Young Miss Dorchester 2012 MyChalia Sanfilippo
In her speech, which answered the question, "What ways can young people improve our community and celebrate the true spirit of Dorchester?", MyChalia spoke about recycling and "having a nice attitude toward other people."
"To answer the question, I looked up the meaning of spirit so that I could get a better understanding on how to answer the question," MyChalia said. "It was much easier to think about."
PS Gourmet CoffeeP.S. gave coffee lovers a reason to celebrate
P.S. Gourmet, long a popular South Boston coffee destination, opened its second location in Adams Corner just before Dorchester Day. The store's signature yellow coffee cups quickly became the latest craze in the neighborhood, especially among the under-30 set. Store owner Jim Fallon, 57, who has run the flagship location in Southie since the mid-1980s, jumped at the chance to secure a spot in his native Dorchester.
"Adams Corner is like the twin to our South Boston store," Fallon says of his two locations. "The foot traffic is tremendous here."
Mayor of Dorchester Katie Hurley
Madame Mayor: Katie Hurley and the pink flamingoes
Katie Hurley ran unopposed to win her titles as 'Mayor of Dorchester' 2012. But the St. Mark's native nevertheless waged a spirited and colorful campaign that raised thousands of dollars for the '12 Dot Day Parade. One of Hurley's trademark stunts was to "hit" neighbors' lawns with pink flamingoes which were only removed for a donation to the parade committee.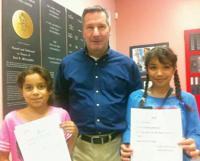 Bob ScannellBoys and Girls Club leader marked a big milestone
Bob Scannell, the executive director of the Boys and Girls Clubs of Dorchester, marked his 25th year at the helm over the summer. Scannell has quietly and humbly become one of the neighborhood's most beloved leaders— guiding thousands of young people and building the club's campuses into robust institutions that are absolutely vital to the neighborhood' daily life.
Kevin Chapman, the Dot born-and-bred actor and a close friend to Bob, summed up Scannell's contributions: "There's companies out there that have offered him huge sums of money — and that's happened multiple times," says Chapman. "People say to him, 'Bob, why don't you take this— you've got three kids of your own to put through school.' He always says the same thing: 'Who's going to take care of the kids?' "
Rev. Loesch Family Park Ceremony
Park re-named for a legend, Dr. Rev. Bill Loesch
The newly renovated Cronin/Wainwright Park on Brent Street was re-named for Dr. Rev. Bill Loesch and his family last summer. Rev. Loesch, who has lived across from the park for 27 years, founded the Park Partners group to rally the neighborhood for improvements to the grounds and later called for city support to make the park a safe place for neighbors to meet. A longtime civil rights leader, Rev. Loesch and his daughter Cynthia have most recently been outspoken civic leaders in the Codman Square area.
Loesch thought the renovated park should be named in honor of President Obama, but neighbors started a petition to name the park for Loesch instead— something he calledc "very humbling."
"They don't name parks after living people, so that's even a bigger honor. I'm very honored to have been active with the park and have the park named after me, and then to be part of watching all these folks use the park and enjoy [it]. My goal is to make it a happier park, a friendlier park."
New Carney chief made best of bad situation

Andy DavisCarney Hospital's new president inherited a tough situation in May. Andy Davis, 41, had to replace a Dorchester legend, Bill Walczak, on short notice after Carney's ownership— Steward Healthcare— made a sudden change. It was not a popular move. But the native Floridian quickly showed that he was willing to rise to the occasion and immediately became a fixture in the neighborhood's civic scene. Most importantly, he pledged to keep Carney— which will mark its 150th year in 2013— moving forward.
"We're going to be an acute care hospital," Davis told the Reporter in June, three weeks after taking over. "There are many things we do very well at the Carney. We have wonderful outcomes. If you look at our data, it's some of the best. We just have to continue get the word out."
New homes on Woodcliff Street : Assistant ISD Commissioner Darryl Smith is shown at right. Photo by Bill ForryAlways on the job: Darryl Smith led city hall teams
Darryl Smith, an assistant commissioner of the city's Inspectional Services Department, was a constant force for effective, collaborative and innovative work in Dorchester and Mattapan in the last year. Smith, who heads up the Dorchester-Mattapan Neighborhood Response Team for Mayor Tom Menino, was in high demand to lead walking tours of troubled streets. Smith, who lives in Dorchester, was often on the job overnight, leading raids of illicit after-hour hang-outs or cracking down on "hot-spot" vacant lots. After one such raid, which the Reporter observed, Smith noted, "People who live here have had enough of it and tonight is the start of the end."
Sonjia WilliamsFashion designer made the most of her star-turn
Mattapan native Sonjia Williams, 27, already had a strong following in Boston and New York with her clothing designs. In 2012, Williams took things to a whole new level as a competitor on Lifetime's Project Runway. Williams made an impressive run on the show, although she didn't take top honors.
Williams' dad , Reggie, was among her biggest supporters back home Mattapan.
"Sonjia was a tom-boy as a child, always into gymnastics," Reggie said. "She was a city champion runner for the track team at Snowden. Then she entered a fashion contest in high school and that really led her into it."
Energy chief wrapped up stellar City Hall stint

Jim Hunt III: Photo courtesy Bill BrettJames W. Hunt III, Mayor Thomas Menino's chief of environment and energy, stepped down at the end of July after seven years on the watch. Menino praised the 41 year-old Dorchester native in charting "the course for making our city a model 21st Century sustainable city. "He helped build greener buildings and better neighborhoods, attract new companies and create good green jobs, and has simply improved people's lives. While his leadership will be missed in city government, I know he will continue to do great things for the City of Boston."
Hunt, who lives in Dorchester with his wife Robin and their children Ella and Matthew, later took a vice-president job with Northeast Utilities.
Joel AbramsHealth center champion earned his retirement
Joel Abrams, who led Dorchester House through a transformative quarter-century of modernization and fiscally-responsible growth, retired in August. The 69 year-old Brooklyn native arrived at the Fields Corner facility in November 1986 and was widely credited with making the Dot House a citywide leader. Abrams presided over two major renovations and expansion projects during his tenure, including one that concluded shortly before his departure.
"When I got here we had, I think, two word processors and telephones and a few electric typewriters," Abrams says. "To be able to create so much self-sufficiency through technology, I believe we have become – along with Codman and Dot Well— one of the most highly capable tech organizations. I'm very proud of that."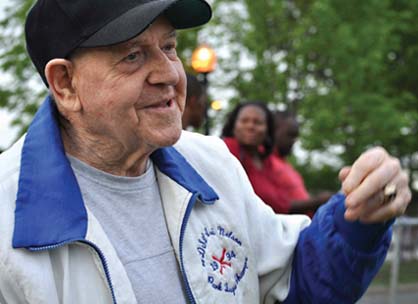 Jim Collyer: Photo by Ed ForryBallplayer, coach, dad Jim Collyer honored by ADSL
Jim Collyer – described by the Reporter as Dorchester's answer to Johnny Pesky – was the guest of honor at a dinner held to raise funds for the All Dorchester Sports League in October. The 84-year-old Collyer has been playing and coaching baseball in Fields Corner since the 1950s and still leads the T-ball program for ADSL. Today, slowed but far from stalled by his respiratory illness, he smiles when he talks about the game he loves and an organization that has kept Jim in the action long after most outfits would have put him out to pasture. Today, many of Jim's 30 grandchildren turn out to help him teach the youngsters how to play ball.
Jim and his wife Peggy will celebrate their 60th wedding anniversary this February on Valentine's Day.
"As soon as T-ball starts up again, I'll be back out there as long as I am able to," Collyer promised.
Dr. Azzie Young: Mattapan Community Health Center President and CEO Dr. Azzie Young on the third floor patio of the health center's new home in Mattapan Square. TPhoto by Bill ForryHealth Center leader hit new heights
Dr. Azzie Young was exultant in September after she finally led her organization— Mattapan Community Health Center— into its new, sparkling home in Mattapan Square. The four-story, $32 million facility, now fully occupied with a bank and CVS on the ground floor, has been a dream for Dr. Young and the MCHC for decades.
"This is where we were supposed to be," Dr. Young said in an interview with the Reporter, her first in the new building since she and her staff moved two weeks before. "Too many things had to happen for this to come about— and they all did."
Entrepreneurs continued to invest and improve in Dot

Greg and Brendan FeeneyGreg and Brendan Feeney moved their Feeney Brothers Excavation business— one of the region's leading underground utility companies— into new headquarters on Park Street. The brothers, natives of Co. Sligo, Ireland, started their business from Brendan's three-decker on Elmer Rd. back in 1987.
Today, they have more than 200 employees and also co-own the popular bar and restaurant, The Ledge Kitchen and Drinks, in Lower Mills. Next up: The brothers will renovate the old Boston Auto and Electric building — adjacent to their flagship building on Park Street. Meantime, the Feeneys say they will continue to be stalwart supporters of Dorchester charities. The two have given more than $100,000 in recent years to a diverse mix of causes.
"We believe in giving back," says Greg.
Billy Traft: Adams Corner native won his second professional bout at Gillette Stadium by knocking out opponent Dan Bonnell after one round. Photo by Emily Harney
One of Boston's finest, on the force and in the ring
Billy Traft, a 33-year-old Adams Corner native and Boston cop, continued to impress in the boxing ring in 2012. Over the summer, Traft knocked-out opponent Dan Bonnell in the first round of their bout at Gillette Stadium, shown above. Traft, who cut his teeth in the kids' boxing program at the McKeon Post, is a two-time Golden Gloves New England champ ('05-'06). After focusing on his career as a police officer for the last decade, he decided to go pro as a boxer in 2011. Next up for the Dot pugilist? "Definitely more fights," Traft said the day after his big win.
Tags: