Traveling on the Menino trolley: Mayor hails the value of 'change'
By Gintautas Dumcius
Dec. 12, 2013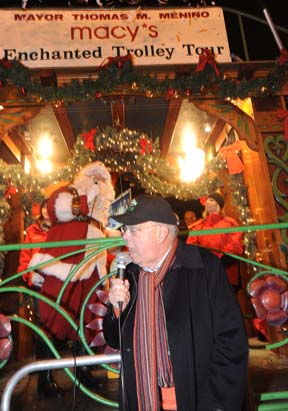 Last stops for Mayor's trolley tour: Mayor Tom Menino speaks at a stop in Mattapan Square. Photo by Don HarneyMayor Thomas Menino looked out the trolley window and there was Doyle's, the Jamaica Plain pub that has a Menino room filled with pictures like the one showing him victorious on Election Night in 1993 and another of him walking along a Dorchester beach with a barefoot Gov. William Weld. Across the street from Doyle's lay the artificial turf on English High School's field, something, Menino noted, that he had pushed for in a long-ago capital budget.
The mayoral car, leading the way for the trolley carrying Santa Claus, kept moving through the light rain, rolling into Readville in front of Westinghouse Plaza, once the site of a factory that was an economic engine for the Hyde Park neighborhood, and that employed Carl Menino, the mayor's late father. With the mayor sitting in front, the trolley, filled with aides and family members, drove on.
Asked earlier this month what his plans were for the last few weeks in office, Menino grinned and said – aside from going to "work every day and make sure government's working, leave my administration in good shape for Marty Walsh" – he planned to be lighting many Christmas trees.
So on a rainy Friday night in December, the mayor embarked on a weekend-long mission: 16 stops across the city, flipping the switch on the lights, greeting supporters, friends, and family.
Clad in an orange sweater and with his grandson Thomas in tow, he departed from City Hall Plaza, hitting a community center in West Roxbury, then onto Wolcott Square in Readville.
Each stop followed a similar script: Actors dressed up as a nutcracker, a Christmas tree, and a doll recited pun-filled lines, and then Menino would step up and introduce Santa. The lever would get pulled, the lights would go up, and biodegradable ticker tape would blast out of the top of one of the trolleys, raining down on the children and their parents as they sipped hot cocoa.
Menino stepped out onto Mattapan Square. Santa. Lights. Ticker tape.
Codman Square, before wrapping up at Adams Corner: Santa. Lights. Ticker tape. The man who couldn't do last year's trolley tour because he was recovering from a hospital stay smiled as he looked into gatherings filled with familiar faces in each neighborhood.
Inside the mayor's trolley, Sue Pye sat in the driver's seat. She lives in Revere, works at Old Town Trolley Tours as a safety officer and trainer and offers riders a cheery demeanor that is enhanced by a red and white elf cap and a sparkly snow-white scarf. As a trolley trainer, she doesn't have to drive, but "it's one of my favorite things to do every year," she said. "How often do you get to go through the city, driving through the red lights?"
The mayor has specifically requested the 51-year-old Pye as his driver every time he's done the tour, after the time when the trolley got stuck inside a Washington Street park, and she had to take over from another driver to steer them out. "It kicks off my holiday season, the kids visiting Santa Claus," she said.
Days later, Menino noted the trolley tour when he spoke to members of the Greater Boston Chamber of Commerce in his last major speech as mayor. "I talked with thousands of people – there was even one person I had never met before," he said. "In every neighborhood, I could sense the love people have for our city. I could feel the partnership they have with each other. But the thing I could see above all, the thing I was proudest of, was the change everywhere. There was more opportunity and more progress and more action everywhere. The city is a lot different than it was 20 years ago. Change has made us strong."