Auto parts dealer eyes empty space on Granite Ave.
By
Gintautas Dumcius, News Editor
Feb. 12, 2014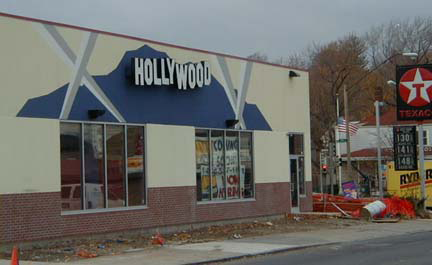 A proposal to put an auto parts store in a chronically vacant space on the corner of Granite Avenue and Gallivan Boulevard received a lukewarm response Tuesday night at a meeting of the Cedar Grove Civic Association. Representatives from O'Reilly Auto Parts laid out plans to take over the space that once housed a Hollywood Video store.
Thomas Naughton, a Milton native who lives in Norwell, has owned the property at 11 Granite Ave. for 15 years.
Hollywood Video, which took up 6,500 square feet of the lot, closed up shop five years ago. A nail salon currently occupies a section of the property, which is worth roughly $25 a square foot, according to Naughton.
O'Reilly Auto Parts, a company with 4,135 locations in 42 states, signed a 20-year lease for the property, contingent on its getting the necessary permits and sign-offs to renovate the space and move in. O'Reilly hopes to open the new store by early 2015, according to Jim Turvey, regional manager for New England. He appeared before the Cedar Grove Civic Association with Bryan Tobey, a district manager who hails from Cape Cod.
Turvey said the company is interested in the property because of its location in Adams Village. "It's great visibility," he said. "You know everybody comes right through there." The building itself is in "great shape," he added.
State Rep. Dan Cullinane, whose district includes Dorchester and Mattapan, said he needed to see more information about the proposal. "It's just the beginning, nothing more," he added in noting that the building has been vacant for years. "I think the community's looking for a partner," he said.
Sean Weir, the president of the Cedar Grove Civic Association, said he would also like to see more specifics from the company. "If they can keep it clean…it might work," he said of the site. "I'm concerned about the traffic, like everybody else."
The company is in the "middle of permitting" for the location and does not yet have a date for an appearance before the Zoning Board of Appeals, Turvey said. Headquartered in Springfield, Missouri, the company has stores in Billerica, Watertown, and Lawrence, and is planning to open a 370,000 square-foot distribution center in Devens.
Turvey stressed that the Granite Avenue operation would be strictly an auto parts store, with no repair operations. A repair shop would be "just an eyesore to the public," he said.
The store would likely be open Mondays through Saturdays, 7:30 a.m. to 9 p.m., like most of their stores, Turvey said. Sunday hours would be closer to 9 a.m. to 6 p.m. Saturdays are usually their stores' busiest days, he added, and the bulk of deliveries would be made at night to avoid traffic.
Plans are for 27 parking spaces for both employees and customers, and the lot will be "well-lit," Turvey pledged, adding that the store will likely employ about 10 employees. "Our goal is always to hire locals," he said.
Naughton, who also attended the meeting, said he would be willing to meet with local residents and business owners in the area to discuss alternatives if the proposal for an auto parts store does not go forward.