Checking out the Harbor: Yacht club treats the kids
By Lauren Dezenski
Aug. 7, 2014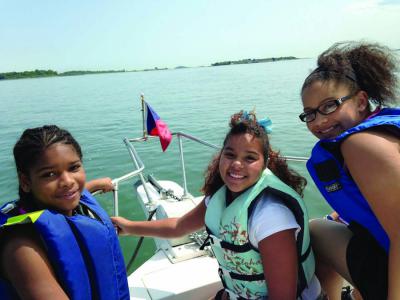 Cruisin' Dorchester Bay: Three members of the Boys and Girls Club of Dorchester enjoy the waters of the Boston Harbor thanks to the Dorchester Yacht Club. Photo courtesy the Boys and Girls Club of Dorchester
"Get closer, Captain!" The seven kids steadied themselves, careful to keep their hands hidden behind their backs, and their eyes on the boat coming up fast on the starboard side.
Their vessel, a 46-foot Sport Fisherman known as "Pair of Jacks," was cruising through glittering Boston Harbor waters last Wednesday morning as it approached the Light Wave, a speed boat carrying four of their friends, all of them part of a group of 50 Boys and Girls Club kids being given rides around the Boston Harbor by volunteers from the Dorchester Yacht Club.
"Pull up beside them! We're taking them down!" As the youngsters craned their necks watching Captain Jack Donegan guide the boat closer, a yell rang out: "Captain, we're ready!"
One of the boys let loose a water balloon, which hit its mark in the enemy boat, earning a scream from the girls across the water. A cheer rang from the "Pair of Jacks" as more balloons were launched, none as successfully as the first. No matter. Captain Jack nudged the throttle, sending the boat and its motley crew heading toward additional targets scattered about in the harbor. "Nothing like a water balloon fight," he said with a chuckle.
This is the third year that Donegan and other members of the yacht club have taken kids from the Boys and Girls Club for rides through the harbor. The volunteers have given over their mornings and 13 boats to the kids, taking groups of four, give or take a chaperone or two, on hour-long cruises before returning back to port for a cook-out lunch.
"Over the last three years, we've never once been short on volunteers to take the kids out," said Paul Polito, the yacht club's commodore. "It probably means a little more for us because these kids are from the neighborhood. And the kids really love it."
Before the balloon games began, the five youngsters and two chaperones aboard "Pair of Jacks" made themselves familiar with the boat, climbing onto the bow, taking turns at the helm, honking the horn, and checking out the water with binoculars. "This is awesome. It's like a cruise ship but smaller," said Isaiah Owousso of Donegan's boat. This wasn't his first trip around the harbor, but the 12-year-old was still impressed, even if the "Pair of Jacks" isn't nearly as fast as "Codzilla," a high-octane speed boat that whips passengers around the waters at the city's edge. "The only thing that Codzilla can't beat is when we go back and eat burgers and hot dogs."
Donegan led the way as the convoy of boats made its way back to the yacht club on the shores of the Dorchester Bay Basin. Jose German sat at the vessel's steering wheel as Donegan showed the 12-year-old how to radio the Malibu Beach drawbridge's control room to ask that the bridge be raised so the boats could pass through. Once the "Pair of Jacks" had cleared the bridgeway channel, German called out to Mike Joyce, the vice president of programming at the Dorchester Boys and Girls Club, who was also on board: "Mike! Can we do this again tomorrow?"