Dot's Laura George enters UMass Boston's Hall of Fame
By
Jacob Aguiar, Special to the Reporter
Jun. 26, 2014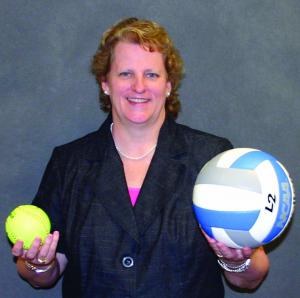 Laura George was inducted into the UMass Boston Athletic Department's Hall of Fame on Monday. She graduated from the university in 1983.
Laura George, formerly Laura Delaney,grew up on Rockwell Street in Dorchester, the youngest of seven children. As she likes to say, she was "born onto a team." Which makes it appropriate that next week she will be inducted into UMass Boston's Athletics Department Hall of Fame in recognition of her four years of effort on the women's volleyball and softball teams.
Now the director of human resources at JOH, a regional food broker, and the mother of four daughters, George readily talks about her childhood days and the games she played. "When I was a kid we went outside and played; it is just what we did. I have four brother, three sisters and lots of cousins. We played lots of pick-up games in the neighborhood and team sports, too. I discovered I had a really good arm when I was a kid and I loved being on a team."
George, who will turn 53 on Friday, attended Boston Latin Academy in the midst of the city's 1974 busing crisis. "I played volleyball basketball, bowling, softball, and badminton," she said. "Being active on all those teams helped me to stay focused and out of trouble. When I moved on to college I thought playing sports would continue to keep me focused on the task at hand. I love athletics and wanted to continue to play team sports."
George still holds the record for the lowest season (2.13) and career (2.36) ERA in UMass Boston softball history. "I always had a good arm so I often played shortstop or in the outfield. It didn't matter if I was playing baseball with the boys or softball with the girls,"she said, noting that she first stepped up to the mound in high school out of necessity. "I was on a team in high school that had just awful pitching so I thought to myself, 'Let me get up there and try it.' I thought, 'Whatever you gotta do to help the team win, that's what you're gonna do.' And that is how I got into pitching. We were getting slaughtered, somebody had to learn. I thought,'If I have a skill, if I can learn to do it, and it is going to help the greater team then I'll do it.'" At UMass Boston, George pitched some 30 complete games and notched 164 career strikeouts. She has "very fond memories" of her time playing at UMass.
Some of her favorite experiences centered around the volleyball team's 1982 season when the team won eleven straight games (still a school record), compiled a 14-5 record that clinching the division championship, and qualified for tournament play.
"I remember going to [Vice Chancellor for Athletics] Charlie Titus's office with a few team members where we just laughed about how we could go the whole way. I really enjoyed that euphoric feeling of being on a winning team and wondering how far we could go."
George graduated with a degree in Human Resources in 1983. Since then she has applied what she has learned from team competition at work and passed on her love of sport to her daughters. "Sports have made me who I am today," she said.