Help Us Answer the Call for Vietnam Memorial 'Wall of Faces'
By
Mallory Smith, Special to the Reporter
May. 21, 2014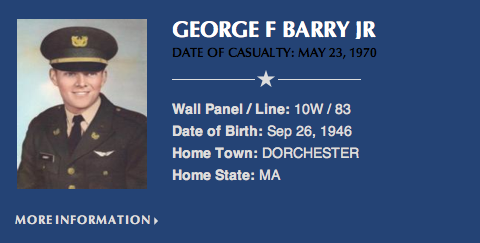 Photos of Dorchester soldiers killed in Vietnam are sought
Each year, 4.5 million people visit the Vietnam War Memorial in Washington D.C. The names of all Americans killed in the conflict are engraved on the walls of the memorial, an effort to keep the names alive in our national memory. A new project hopes to help us remember their faces as well.
Organized by the Vietnam Veterans Memorial Fund, the effort seeks to post the photos of all servicemen and women who died or went missing while serving in Vietnam. At the website, which can be searched by hometown, people can learn more about each man and woman— including date of birth, when they died, their branch of service and where their name is on the memorial. Visitors can also request a name rubbing, donate in their honor, and follow postings about a particular person.
Forty-three Dorchester natives are currently listed on the Wall of Faces website. Of these, 13 do not yet have an image to accompany their biography. They include: Willis Beauford Jr., William E. Clancy, August Gonsalves Jr, Robert J. Hain, Kenneth R. Joyner, Patrick J. Kelley, Jr., Robert J. Main, Robert J. McCarthy, Daniel J. Minahan, Richard Olson, Paul J. Stewart, Jerry L. Thompson, and Don E. Turner.
The Reporter- through the New England Newspaper and Press Association— has been asked to reach out to our readers for help. If you have access to a photograph depicting any of these men— formal headshots, high school pictures, group pictures— please consider sending them to us via email to newseditor@dotnews.com. We will, in turn, get the photos to the Vietnam Veterans Memorial Fund. Currently, out of the 58,000 soldiers killed, the VVMF still needs 24,000 pictures to complete their Wall of Faces.
If you would like to learn more about The Wall of Faces log on to their website.
- Mallory Smith