Holiday weekend goal for top cop: 'Making sure no one gets shot'
By Bill Forry
Jul. 3, 2014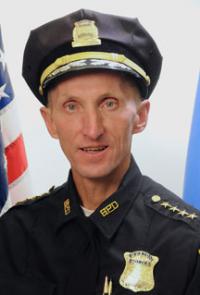 Boston's police commissioner has his hands full assisting with logistics for tonight's July 4th celebration along the Charles River. But, William Evans says he's staying focused on his chief goal for the holiday weekend: "Making sure nobody gets shot" in any of the city's neighborhoods.
"We'll have a lot of officers deployed tonight on the Esplanade to assist the State Police, but honestly our priority is the neighborhoods and we're putting a lot of resources into making sure this weekend is a safe one," said Evans in an interview with the Reporter on Thursday.
"For us, it definitely helps to have the two nights combined into one," said Evans, referring to the city's decision to condense the two-night Boston Pops concerts into a single event tonight, Thursday, July 3. Inclement weather associated with a northbound hurricane, Arthur, prompted the schedule change. The weather will also likely ease the burden on city police, as Friday should be a quieter day across the board as outdoor plans are cancelled.
On Monday, Evans and Mayor Marty Walsh announced plans to plug all 54 newly sworn-in police officers from a new recruit class into the three police districts that cover Dorchester, Roxbury and Mattapan. Evans told the Reporter that 20 new officers will be dispatched to Area C-11, another 20 are headed for B-2 (Roxbury) and the rest will be based at B-3, which covers Mattapan and parts of Dorchester, including the Blue Hill Ave. corridor.
"Our goal is to boost visibility in the places where we've seen the most violence, especially in June, July and August," said Evans. "City-wide, shootings were down in June which is good. We have seen a 35 percent decrease in shootings over last year. We still have four more homicides citywide than last year, but overall violent crime is down 13 percent."
"Our strategy is to go after the people driving the violence and to be in the places where it happens— and that appears to be working very well," said Evans. "If things heat up in a certain place, we'll put in more bike patrols. I want bikes in the playgrounds and I've told the officers that I want them getting out of their cars and walking the playgrounds and parks too."
In past years, police have sometimes conducted warrant sweeps before holiday weekends and special events like the Caribbean Carnival in August to take "impact players" off the streets for less serious violations. In advance of July Fourth, Evans says, the BPD has not employed that tactic.
"Since the young boy [Jan Marcos Peña, age 9] was shot in Mattapan by his brother, I think there's been a wake-up call. We have been going after these players pretty hard since then," Evans said, pointing to the seizure of more than 700 guns— either through arrests or a new gun buy-back program that commenced earlier this year.
"We just need everybody on board. I want the public to realize the amount of hard work that is happening. We've already surpassed the number of guns taken off the street in all of last year. But people also need to understand the volume of guns that are still out there is still big."
Tags: