Latest neighborhood map patterns itself on village concept
By Bill Forry
May. 15, 2014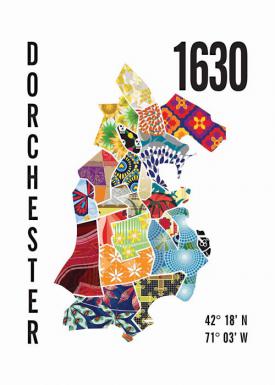 Map: A new map created by Jennifer Hill— who lives in Dorchester— is an "artistic representation" of the town-turned-neighborhood. Hill, who unveiled her design this week, is selling copies through her website, jhilldesign.com, starting at $12 per print.Dorchester's true composition is truly in the eye of the beholder.
That's one take-away from the latest visual representation of neighborhood as created by graphic artist Jennifer Hill. The New Hampshire native, who came to Boston to attend Mass College of Art, now owns her own design and print business based in South Boston's Fort Point neighborhood. Hill, 34, has focused most of her business on generating prints that transform maps of cities, states and countries using hand-drawn patterns.
Two years ago, Hill moved to Pearl Street in Dorchester, which has long had a reputation as an underground artist colony. Since her relocation from Somerville, friends have pressed Hill to use her talents to create a Dorchester-themed print.
On Monday, after a week of research and work, Hill pressed send on the project: The result is a colorful, jigsaw-like representation of Dorchester — carved into floral print patterns based on existing villages and civic association boundaries. The map includes the date of the original town in 1630 and — as she typically does with her work— Hill also included the coordinates for the neighborhood in the lower right-hand corner of the print.
The map— printed using archival pigment on matte paper— is available for sale on her website, jhilldesign.com. She has already taken several orders from neighborhood residents who saw her work via social media. The smallest sized print (5x7) are available for $12. Framed prints are also available for much more.
Hill acknowledges that she had to take a bit more time creating the Dorchester map. The problem is one that will be familiar to regular readers of the Reporter: There "isn't one source for neighborhood boundaries," Hill said. She turned to a pair of books — Anthony Sammarco's Dorchester: A Compendium and Gerald Gamm's Urban Exodus—as reference tools.
Still, Hill acknowledges, her map is not a precise depiction but rather "an artistic representation" of her new hometown.
"I'm really happy that we decided to buy in Dorchester," said Hill. "It's amazing how many people we know are moving here now. It's a great neighborhood," said Hill, who lived in Jamaica Plain for 13 years before decamping to Somerville for one year.
"We spend a lot of time on the bike path and at the beach in Savin Hill, so I picked a bunch of floral patterns for the map. Dorchester has some great communal spaces," said Hill.