The making of 'David's Law' – a story of love, grief, resolve
By Lauren Dezenski
Aug. 21, 2014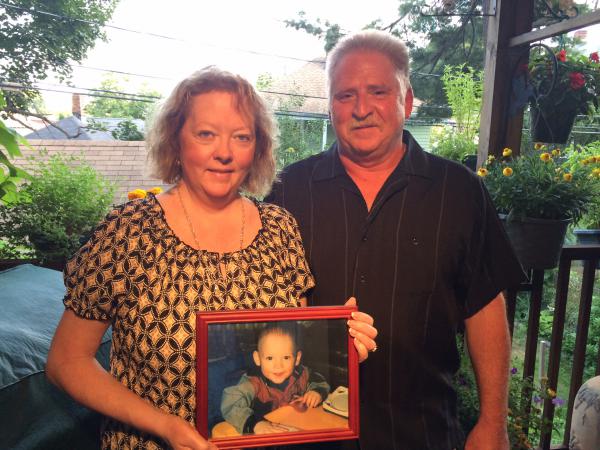 After almost two decades of work and waiting, Don and Cathy Macrelli got their wish: as of two weeks ago, "David's Law" was a reality and the Adams Village couple attained closure on a deeply personal matter of life and death.
In 1996, their son,18-month-old David Macrelli, died unexpectedly from medical complications. Months into their grieving, they learned that the hospital had, without notification to them, removed the boy's brain, heart, and other organs for research purposes. Seeing this as a heartless decision, the couple moved to set things right in their son's memory by using the legal system to assert parental rights when calls like this are made.
It proved to be a long haul.
Years of failed court battles followed, and session after session of the Legislature went by without any remedial action. Enter Martin J. Walsh, then a state representative, who met with the Macrellis at nearby Gerard's years ago and then filed a bill in the House addressing their concerns directly.
It took a while, but from that initial discussion emerged House Bill 4378 in the recent legislative session, the first of its kind in the US. It called for medical examiners to notify next of kin if organs have been removed after an autopsy and required consent from family members if examiners seek to keep the organs. Cathy and Don Macrelli called the proposed legislation "David's Bill."
"They told me their story and we've become friends since then," now-Mayor Walsh said in an interview with the Reporter. "They're very passionate and informed. Their story is incredibly sad and I wanted to help."
When Walsh was elected mayor, the Macrellis were ecstatic for the legislator and friend they'd known for years, but nervous, too. "We thought," said Cathy, " 'What's going to happen to David's Bill now?' " The answer was quick in coming.
After Dan Hunt won the special election to fill Walsh's House seat in March, the Macrellis introduced themselves at the Cedar Grove Memorial Day services and told him their story. Moments later, Hunt ran into Walsh and asked him what, if anything, he should prioritize in the House. "He turned to me and, motioning to the Macrellis, said their bill 'is something that absolutely needs to get done' before the end of the session."
For the next two months, Hunt pushed the bill, working to get it out of a committee where it had been stalled since January 2013, smoothing out the language, and getting a new version onto the House floor for a "yes" vote on July 31, the last day of this year's session.
Hunt then hand-delivered the bill to the Senate minutes after the House vote, where State Sen. Linda Dorcena Forry moved to get it enacted in the final hours of the legislative year.
"When Dan Hunt came to me and explained the story, I asked, 'How could we allow this to happen?' said Dorcena Forry, a mother of four who is married to Reporter editor Bill Forry. "I was in shock that it's been going on for so long. It's always difficult when you lose a child, but to have the child returned without the organs is just shocking to me."
When the bill was brought to the Senate floor, Dorcena Forry was asked to explain what it meant since organ retention legislation doesn't often come up in the Senate chamber. Once she explained the bill's goals and its benefits to families, "everyone got it," Dorcena Forry said. After the Senate okay, Gov. Deval Patrick signed the legislation. "David's Bill" was now "David's Law."
Hunt phoned the Macrellis with the news that Thursday evening, just before dinner time. "The highlight of my four and a half months on job was the call to Cathy," Hunt said.
At first, Cathy was speechless at the news, and Hunt, too, became "verclempt," as he recalled, using a Yiddish term meaning "overcome with emotion." Beyond the excitement for the Macrellis, this was his first bill signed into law.
"This is why people go into public service," Hunt said. "At the end of the day, this bill doesn't change the entire structure of the medical examiner's office or the Executive Office of Public Safety, but it has closure for one particular family and that makes it all worth it for me."
Everyone who fought for "David's Law" has marveled at the couple's steadfast drive to honor their son. "I have not seen someone work so hard and be so passionate lobbying to get a piece of legislation passed as Cathy," said Mike Christopher, a former aide to Rep. Walsh who worked briefly in the Executive Office of Public Safety this spring. "Cathy was a force to be reckoned with."
Linda LoPriore, a former legislative aide with Rep. Walsh who now works as a senior adviser in the Mayor's office, remembers crying the first time she met Cathy and heard her story, and again when she called Cathy after the bill passed.
"She kept fighting," LoPriore said. "No matter how many bumps she came across, she'd keep working on the language, and was flexible and made it happen. In the end, she got it done. It's a long road but it's worth it."
One family's resolve has made a difference.
"Don and Cathy's work will truly help families to not have to go through similar experiences with their loved ones," Walsh said of the Macrellis' long march in honor of their son.
"It's not the Fluffer Nutter bill," said Cathy. "This is not a thing that people like to read about. But it's about perseverance. We could have easily given up. But we didn't, because this does matter."