Meet the BFD's newest Captain, Mark Loschiavo
By Bill Forry
Aug. 20, 2014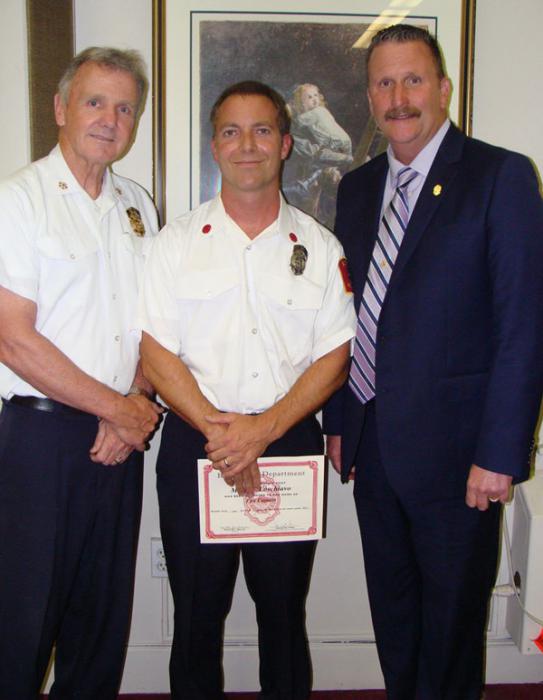 Boston Fire Captain Mark Loschiavo, 41, is a native of Dorchester who lives with his wife Diana, also a Dorchester native, and their two children in the Ashmont-Adams neighborhood.
The Reporter caught up with Capt. Loschiavo this week, just days after he was elevated from the rank of lieutenant to captain by the BFD's Commissioner Joseph Finn.
"Mark has proven himself as a lieutenant to be a leader and now he'll use that know-how and wisdom to lead a company," Commissioner Finn told the Reporter.
Reporter: Captain, you grew up in Dorchester. What was your experience was like?
Capt. Loschiavo: I grew up on Bailey Street across from Ashmont station. When I was about 12-13 years old my neighborhood became a very turbulent place to live. At a young age I witnessed robberies, stabbings, shootings and fires to name a few. Over the years every one of my family members became a victim of some sort of assault, robbery or both. As fearful as I was, I learned to survive and deal with the fear.
When I reflect on those years today, everything I went through as a young man has prepared me more for life than anything I could have ever learned in a book. My experiences growing up in Dorchester and still living here today have taught so much about life, about people and about resilience. On and off my job, I try to help people. That is what you are supposed to do in life.
I have seen the Ashmont area go from good to bad, to worse, and now to a better place to live. The community has come together, they have a very real interest in the well-being of our neighborhood, and that is very good to see, once again.
My wife and I have chosen to stay in the city for many reasons. The diversity, the resources, the convenience but most of all for the people here. The pride we have in Dorchester, as most people from Dorchester can relate, it runs deep.
Reporter: How and why did you enter the fire service?
Capt. Loschiavo: I first took the fire exam at 19 years old, then again 2 more times before being hired at the age of 25. I wanted a chance to help people. I wanted to do something with my life that was rewarding, challenging, and significant. I have always respected the job that firefighters do and I wanted to be a part of that. I knew there were risks with this job, but I look at life this way without risk, there is no reward.
Reporter: Your promotion to captain means that you will serve elsewhere in the city. What are your hopes/plans for the future in the BFD?

Capt. Loschiavo: As a Captain I am filling in down the North End Ladder 1/Eng 8 for the month of August, then I don't know where I will be. When you are promoted you need to go where the department needs you until a spot opens up permanently. I plan to keep studying to keep my mind sharp. I hope to get involved in the FIU (fire investigation) part of the job in the future as well. The investigation part of the job has always appealed to me.
Reporter:- It was a tough year given the loss of FF Michael Kennedy and Lt. Ed Walsh in March. Did you know/serve with them? How did that experience – and other losses— impact you?
Capt. Loschiavo: I started my career at Engine 53 at Roslindale /Mattapan line. I was promoted from there to Lt. in 2005 and spent many years as a Lt. at Engine 33 on Boylston Street. From there I spent a year at Engine 50 in Charlestown. By choice I transferred back to my neighborhood, Ladder 6 in Peabody Square, prior to being promoted to Captain. I spent a large part of my career at Engine 33. I worked with Lt. Walsh at that fire house. I did not get the privilege of meeting Michael Kennedy. From what I have been told he was an extraordinary guy, someone who gave back to his community and was well respected on the job.
Ed was great guy and he was the epitome of a family man, which to me is the best part about this job. The time we get to spend with our family especially when our kids are little, you cannot put a price tag on that. If Ed was not working, he was with his family.
It has been a tough year for every family in the Boston Fire Department. It does not cross my mind that I may not return home on a daily basis, but when something like this happens it hits home, especially for the wives and children of firefighters. It's not easy for a spouse to know that we willingly put ourselves in harm's way and the job we do is inherently dangerous. My wife believes, as I do, that some things in life are beyond our control and it really is in God's hands, not in ours. I have seen many traumatic incidents over my career and have carried some around with me. But, ultimately, I have realized that we as firefighters or other first responders can only do our best to help save a life and we have to cope the best we can, with what we see in this line of work.
Reporter: The firefighting community in Dorchester seems to be very tight-knit, almost like a family. Is that true?

Capt. Loschiavo: The firefighter community in Dorchester is very tight and is a family. We stick together and help each other, not matter what. My friend and fellow firefighter Ed Kelly's son Tommy is 4 years old and battling cancer, there was no doubt we would all be there to support the Kelly Family. Our kids all attend St. Pope John Paul Catholic Academy together and are friends.
Reporter: Tell us about your own family.

Capt. Loschiavo: My wife Diana also grew up in Dorchester. She grew up on Thornley St in the Savin Hill area, we have two children Isabelle 8 yrs old and Nicholas 6 years old. She feels fortunate to be a stay-at-home mom and be able to be there for our children on a daily basis as they grow up. Both kids play Dorchester Youth Hockey, Isasbelle takes guitar lessons at the Boston School of Music in Lower Mills and our kids love the beach. Packing it up and heading to the beach is our favorite way to spent free time over the summer.
Reporter: The new commissioner, Joe Finn, is also a Dorchester native and will likely be a resident again soon. What advice/instructions did he have for you upon your elevation to captain?
Capt. Loschiavo: I am very proud that Mayor Walsh and the Fire Commissioner are both natives of Dorchester. Commissioner Finn has always led by example and has a reputation of being firm but fair. His advice to officers has been to get to know your men or women that work with you. Be fair but you have the responsibly of being the boss. We live together, eat together as firefighters and we need to be respectful of each other. The Fire Dept. is my second family and I'm very proud to wear this inform.
Tags: