PERFECT STORM: Team Walsh gets first winter test
By Gintautas Dumcius
Jan. 22, 2014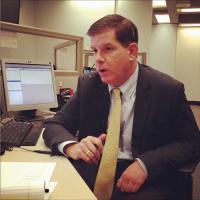 Mayor Martin J. Walsh took a turn manning the 24 hour hotline set up for constituent calls during Tuesday night's snowstorm. The minor winter storm was a good opportunity for the new administration to show its capacity for handling a snow emergency, which was declared by Walsh on Tuesday afternoon. Photo courtesy Mayor's Office.
As the first snowstorm of his mayoralty headed his way, Marty Walsh struck an optimistic tone during a Tuesday morning interview with FOX 25. "Hopefully the snow moves out and we miss it," Walsh said inside its Beacon Hill studio.
The camera then cut back to the FOX 25 studio in Dedham. "Sorry, Marty," the station's weatherwoman, Shiri Spear, said. "Get ready to dig out."
Not quite.
The snowfall landed somewhere in the middle, between a dusting of a few inches and the 10 inches that some weathermen predicted. Boston received roughly five inches, while areas south of the city picked up double digits. The roads appeared to be largely clear in the morning, with police posted at major intersections to direct traffic.
It was the first weather-related test for the new mayor, who has been quick to note he had sat in on a mock strategy session with his predecessor, Thomas Menino, in December, before he was sworn in.
After a 2 p.m. meeting on Tuesday with members of his Cabinet and others, Walsh made the decision to close public schools and declare a parking ban. He cancelled a planned Wednesday trip to Washington, D.C., for the U.S. Conference of Mayors.
"If something goes wrong, I have to be here for it," Walsh said.
Did he ask Menino for advice? "Not today," Walsh told reporters during a press conference in the mayoral suite's lobby, after his meeting with department heads. But he didn't plan on deviating from what Menino usually did – the former mayor took some of the same steps when a similar snowfall was predicted, and a number of Menino administration officials have stayed on through the transition. The former mayor had a good system in place, Walsh said.
The city has plenty of salt for the roads, he added.
A couple of inches and hours later, around 8:30 p.m., the lobby was dark, but the door to the mayor's office was wide open. Walsh sat on the couch, his jacket still on, looking relaxed as District 7 Councillor Tito Jackson of Dorchester sat to his left. Behind them, chief of staff Daniel Koh tapped away on a laptop at the big conference table by the windows, joined by Emilee Ellison, one of the mayor's spokeswomen.
Walsh said he expected Wednesday to be a full day at City Hall – essential and nonessential personnel were expected to come in.
"City Hall has to keep moving," said Walsh.
Moments before, he went upstairs and had been trained on the mayor's hotline, fielding calls from six or seven residents. One man was impressed that he had the mayor on the line, while the others launched straight it into their complaints, according to Walsh.
Fifteen to twenty city employees were still up there, handling the calls.
"The phones are quiet now," Walsh said. "That's a good sign."
Walsh stayed in City Hall until 11 p.m. and then headed home. He continued monitoring the storm on Twitter and the news stations, eventually going to bed at 1 a.m.
Walsh emerged from his Tuttle Street home on Wednesday a little after 9 a.m. His sidewalk and driveway were shoveled and a SUV, with a police officer at the wheel, was waiting to take him back to City Hall.
Asked whether he had any regrets about closing Boston public schools, Walsh said, "None at all. You'd have half the school empty. I'm going to take safety first when it comes to our young people."
Around the corner, McKenna's, a local breakfast nook, was open for business, filled with snowplow drivers and students of Cristo Rey Boston, a Catholic high school, grabbing something to eat before heading out into the still-falling snow.
Walsh had spent the morning checking in with department heads and calling news stations and reporters, receiving and providing updates on the storm response. The snow emergency declaration and parking ban were lifted at 8 a.m., a decision he made shortly after 5 a.m. There were 300 snowplows on the streets, down from 550 on Wednesday night.
"I've got nothing but good compliments so far," Walsh said before he climbed into his car.