Record numbers walked for peace on Mother's Day
By
India Smith, Special to the Reporter
May. 14, 2014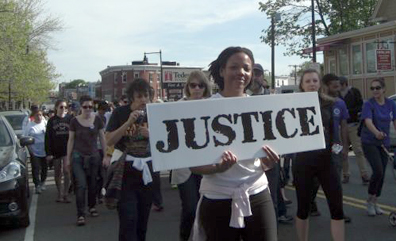 An estimated 10,000 people joined the 18th Annual Mother's Day Walk for Peace on Sunday, May 11, encircling the 3.6 mile route from Town Field to Codman Square and back via Geneva Ave. It was a record turnout for the event, held every May to benefit the Louis D. Brown Peace Institute. The Dorchester non-profit provides services to survivors of homicide and has developed an innovative anti-violence curriculum for grades K-12.
Sunday's event raised $149,000, according to organizers. Major sponsors included the Gardiner Howland Shaw Foundation and the Mark Wahlberg Youth Foundation. The Dorchester Reporter is a longtime in-kind sponsor of the event. Individuals and teams that walked raised the largest part of the funds.
Many participated in memory of victims of homicide. Renita Charley, who attended in memory of her brother Jarris Jermaine Charley, said she fears the problem of city violence is getting worse.
"We're losing too many kids unnecessarily," she said.
But walkers saw the event as an important way to start changing that.
"The Mother's Day Walk makes people more aware of the problem," said Christine Doyle, who participated in memory of Steven Odom.
New England Cable News anchor Latoyia Edwards warmed up the crowd, speaking as a child of Dorchester whose mother still lives on Adams Street.
"We need to stop this senseless cycle of violence that has taken so many lives," she said.
Mayor Martin Walsh, a Dorchester resident, took part as he has for the past 18 years. Despite his administration's gun buy-back program — which has taken 300 guns off the street thus far—Walsh said he still dreads receiving a call that another young person has been shot. Police have taken an additional 200 guns off the streets so far this year, he said.
"We have to stop blaming the politicians, blaming the police, blaming the drug dealers," he said. "It's out turn to step up and take this message to the street."
Turnout from Dorchester and surrounding areas was unprecedented. And as walkers streamed onto Dorchester Avenue, it was evident that that more participants than ever before had also come from other parts of Boston, from suburbs, and beyond. A group from Chelmsford was the leading fundraiser.
Banners and t-shirts announced groups from Milton, Newton, Wellesley and Cohasset. Beacon Hill Friends Meeting participated. White flags of Veterans for Peace rose above the procession. Scarlett Lewis, mother of Jesse Lewis, 6, killed at Newtown, Ct. in 2012, wore a yellow t- shirt bearing the logo of the foundation she started in his memory.
Tina Chery was elated. Chery, who founded the Louis D. Brown Institute after her son Louis was killed in gang crossfire on Geneva Avenue in 1993, said that she decided to hold an annual walk on Mother's Day partly as a way to convey the reality of urban violence to the wider community.
"There are many people who have never been affected by violence," she said. " But a mother's heart will always be touched."
According to Chery, before Mother's Day became a so-called Hallmark holiday, it was originally created by mothers who had lost sons to war. They wanted to prevent other mothers from ever experiencing the same loss. Chery knew that mothers share a common bond that reaches across ethnicities, races and communities.
"Contrary to what is portrayed in the media, we are one Boston," she said. "Just look around you."
Tags: