Reporter's Notebook: 1,501 afternoons in Dorchester
By Gintautas Dumcius
Apr. 24, 2014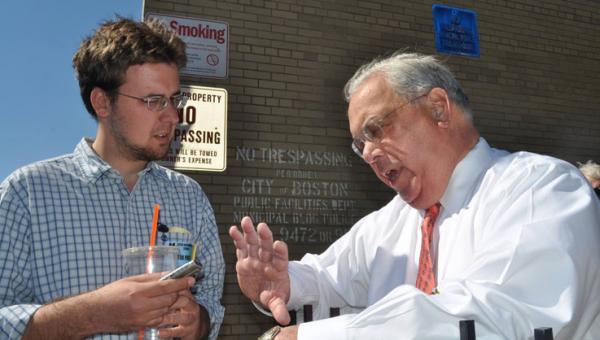 Editor's Note: Today is the last day on the job for Reporter News Editor Gintautas Dumcius, who has worked for the Reporter in various capacities for the last ten years. Gin's byline will continue to appear in the Reporter and at DotNews through his work at the State House News Service, where he will work as a full-time reporter beginning next week.- BF
One of my first assignments for the Dorchester Reporter involved being "embedded" on a Dorchester Day float. It was June 2004 and I was in the Dorchester Historical Society's float as it motored through the rain and down the neighborhood's main thoroughfare for the parade's 100th anniversary.
I forget who had the idea to put me there, but I remember wondering whether it was Bill Forry, the managing editor, or Jim O'Sullivan, the news editor at the time, and whether this was an endurance test. "The rain had melted off Earl Taylor's fake mustache, filled the brim of Fred MacDonald's black bowler, and made Don McGill's boat appear as if it had sprung a leak," I wrote. "But McGill rowed on, in a sailor suit and sitting in the tiny boat perched at the end of the Dorchester Historical Society's float, down, down Dorchester Avenue for the annual Dot Day Parade."
I was soaked and shuddering. But the history nerds on the boat were merry, laughing and cheering despite the weather, and it kept my mind off the cancer that was ravaging my father.
For me, at various points over the last ten years, and particularly over the last four, the Reporter's newsroom has been a schoolhouse, a second home, and a shelter. To work there is to have one of the best jobs in the world of Boston journalism.
There are too many standout moments, all frozen in my memory, to list them in full, but here are a few:
• Seeing a Dorchester state representative I had covered for years, a recovering alcoholic who had survived cancer and a gunshot wound, take the stage at the Park Plaza after unofficial vote tallies showed he would become the next mayor of Boston.
• Watching a haughty healthcare executive, in the basement of Carney Hospital, fly into a rage and demand to know who told the Reporter about a secret board meeting to introduce the hospital's next CEO.
• Sitting silently in the newsroom hours after the Boston Marathon bombings with Bill and his father Ed, stunned to learn that one of the three people killed was an eight-year-old boy from the neighborhood.
But I'm burying the lead. April 29 will be my last day as the Dorchester Reporter's news editor. Starting in early May, I'll be a full-time reporter for the State House News Service, an independent newswire that covers politics and policy. I'm leaving with mixed feelings, happy for new challenges, but wistful about my experiences.
For the reporters who will come after me – and I hope there will be many, because Dorchester, as well as the city of Boston, needs the Reporter – I want to offer some advice.
First, follow your passion and find a niche. When I first took the news editor title in March 2010, Bill Forry told me, "This job is what you make it." If I wanted to immerse myself in city politics, then I could do that. If it was development or crime reporting, that was good, too. But politics has always been a passion of mine. In high school and during my college years, I religiously read ABC News's "The Note," a round-up of stories and analyses. When I briefly interned for a Quincy mayoral campaign, I realized I wanted to write about it more than partake in it. And at the Reporter, I witnessed the daily papers largely abdicate coverage of city politics. That created a vacuum that was filled not just by the Reporter, but also by other outlets.
Read. Boston is lucky to have a media market that offers a buffet bigger than what the two daily newspapers have to give, despite what their editors might sometimes have you believe. That was apparent during last year's mayoral race, when Boston magazine, CommonWealth magazine, WBUR, WGBH, WBZ, WCVB, FOX 25 and others provided strong coverage. Universal Hub, run by Roslindale's Adam Gaffin, is a site frequently checked by residents, reporters, and City Hall officials. Also on the internet: Adam Reilly's archived articles about local politics on the now-defunct Boston Phoenix's website, which should be part of any Boston politics syllabus. Watch and learn from Jon Keller's interviews of elected officials on WBZ-TV and read his archived articles on Boston magazine's website. There are also plenty of books on Boston history. Yes, read "Common Ground," a deeply researched look at the busing era in Boston, but also give a read to the lesser-known work, "The Fence," an accounting of a Boston Police Department cover-up after the savage beating of one of their own.
When you see a horde of fellow reporters heading in one direction, head the other way. A good example of why this makes sense surfaced last week. While most reporters (including this one) were locked inside the Hynes Convention Center for the tribute to the survivors and victims of the Marathon bombings, Bill went to All Saints Church in Ashmont. Up there in the bell tower, he watched alone as local resident Jeff Gonyeau offered his own tribute to the Richard family.
You will always run into conflicts of interest. This bit of advice is specific to the Reporter. Boston is a small town, and within political circles, it's even smaller. Most people know that Bill Forry is married to state Sen. Linda Dorcena Forry, a Dorchester Democrat. That doesn't make things any less awkward. When she hosted the St. Patrick's Day breakfast in March, I joked that I knew what it was like to be a Globe reporter covering the Red Sox, which shares an owner with the newspaper. But the best way to tackle this kind of problem is to acknowledge it, disclose it, and move on. If you have any questions, never be afraid to bounce them off a fellow reporter or editor.
Go to the courthouse. There you will find stories of squabbling couples and weaponized tomato cans; in their chambers, judges will close the door behind you and talk if they believe you're fair. Ride the T into and out of Dorchester and you will run into sources, strangers, and stories. Haunt City Hall. "I'll tell you a secret," Ben Hecht, a 1920s reporter in Chicago, once said. "We live in a mad and inspiring world." He was right. It's up to us to keep it that way.
EDITOR'S NOTE: Check out updates to Boston's political scene at The Lit Drop, located at dotnews.com/litdrop. Email us at newseditor@dotnews.com and follow us on Twitter: @LitDrop.