Two from Dot play key roles in USA Hockey win
By Bill Forry
Apr. 17, 2014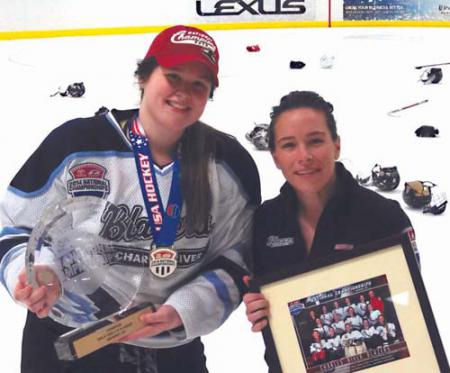 National champs: Seventeen year-old Brenna Galvin, left, scored the national championship goal for the Charles River Blazers, coached by her Dot neighbor, Kerri Doolin. Photo by Craig Galvin
Brenna Galvin, 17, scored the game-winning goal this month to give her Charles River Blazers team its first-ever national championship in the 16-and-under division of USA Hockey. Galvin, a forward who wears No. 8 for the Blazers, backhanded in the winning shot in the final period of a showdown with the Marquette (Michigan) Sentinels— a team that had beaten the Boston girls, 5-1, earlier in the tournament.
Galvin, who notched six points in the tournament that was held in Buffalo, stepped up as a team leader in the week-long tournament, according to her coach— and fellow Dorchester resident— Kelli Doolin.
"That was her breakout game right there," said Doolin of the championship win. "Brenna knows when to step up and she sure did. It was a gritty, grinding game, and she got the goal."
Doolin, 28, has had her own share of glory on the ice. An Adams Corner native, she was a self-described "rink rat" growing up behind two hockey-crazed siblings. Like Galvin, she cut her blades on the ice in Neponset, playing in Dorchester Youth Hockey before getting plucked for prep school in Maine as a high schooler.
She went on to play Division One hockey for Providence College, including two years as team captain. She has been coaching since graduation.
Doolin says that Brenna, the lone Dorchester player on the Charles River squad, has what it takes to skate in college as well. "She's a hard worker and she's a leader. She's not shy at all. Brenna's a great kid and she led the team. She works hard and takes criticism in the right way," said Doolin.
Galvin is currently a junior at Boston Latin School who just celebrated her 17th birthday this week. She plays for her school team and also skates for the Dorchester Youth Hockey Under 19 girls' team. Her father, Craig Galvin, said that Doolin's coaching has been a huge help to his daughter.
"Having a woman coach has been very comfortable for Brenna," he said. "The Charles River girls program has had other Dorchester connections, too: Caroline English played there and coaches there."
Craig was there to see Brenna notch the championship-winning goal. "She had control of the game and vision," he said. "She beat the goalie to the post on the goal. I went out of my mind."