By Daniel Sheehan, Reporter Correspondent
October 5, 2017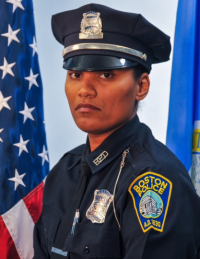 In person, Skye Canuto is nearly unrecognizable from the stern, professional figure in her official police portrait. Her words are free of decorum or ceremony; rather, she speaks personably with a radiant smile. She doesn't seem like an off-duty police officer— until you hear her talk passionately about her work.
"I love it," she says with a grin.
An 11-year veteran on the force, Canuto, 36, has worked in the C-11 district in Dorchester, the Youth Violence Strike Force gang unit, and the School Police Unit, where she is currently assigned. She has been at the center of police-community engagement for quite some time, building relationships with kids at both the street and the school level. Most recently, this engagement has been taking place on the hardwood.
And, largely in recognition of a program Canuto co-founded called Women in Blue, the Greater Boston Chamber of Commerce recently named her one of its 2017 Ten Outstanding Young Leaders.
"Women in Blue is something that Deputy Nora Baston and I started together," Canuto explains. "We wanted to have a group of women that would go out and empower young women through sports, arts, anything. Basketball is our sport that we use a lot because we both played at the collegiate level, so we use that to start up a dialogue and show them how sports can bring about something positive. We also show them how sports have helped us on our job, in terms of teamwork, finding different approaches to solve a problem, being able to interact with people, things like that."
The main goal of Women in Blue is to have an impact on girls in the community, but Canuto says the program provides both outward and inward support. Women make up about 33 percent of the School Police Unit, but only about 13 percent of the department as a whole. For Canuto, this reality makes the program even more important.
"With Women in Blue, it's not just for the young girls, it's also a way for us as women in law enforcement to rally around each other," Canuto explains. "We do different bonding events, like going to Celtics games and stuff, because there's not that many of us on the job."
Beyond Women in Blue, Canuto is involved with several other programs that partner police with local schools, including one with the DA's office called "Overcoming Violence," in which officers like Canuto hold talks with students about the dangers and consequences of crime and gang culture.
"Programs like that allow kids to ask us questions," Canuto says. "Usually they don't get to talk to an officer, so this way we give them a safe place to have a conversation. We prefer the interaction to be a positive one rather than a negative one."
In this way, Boston police officers are working in schools to preemptively address gang violence, an approach Canuto calls "prevention and intervention."
"We hope that we can deter them if we find out they're getting involved in stuff," Canuto says. "I think a lot of my knowledge from the gang unit helps out because I can say, listen, I've been there, I've worked in that unit, I don't want to have to go that route with you. Let's find a different way. And then I can connect them with other people I know from great programs in the city, like a youth mentorship basketball program."
This type of close relationship between the police department and the community it serves is critical in light of the ongoing police crisis across the country. Experience has shown officials that the absence of this kind of positive engagement breeds mistrust and violence on both sides, as well as patterns of abuse and injustice that have reared their ugly heads over the years in places like Ferguson and Baltimore.
With campaigns like Women in Blue and Overcoming Violence, Boston is taking a step to address the root of these problems.
"With all of the issues going on with policing in the inner city, it's huge to come in and talk to kids who have questions regarding that. I remember the Fenway High School brought us into a political class to have students ask us questions, and we were able to dispel some myths about policing and explain to them that those things don't go on here. Yes, we're police officers, but we're humans, too."
Canuto gives department leadership credit for trying to establish a culture of transparency and empathy.
"Boston really promotes the community policing aspect. Where other cities are experiencing this type of stuff, we're not really. Do we have our issues? Yes, every place does. But here, change is coming from the top down. Without the commissioner and all the higher-ups being behind us, officers definitely wouldn't be able to do this type of work."
Officer Canuto will be recognized along with the other honorees at a celebration on Nov. 8 at Laugh Boston. Until then, the Roxbury native will continue her work to protect and mentor kids in the places where she grew up in. Walking around town, Canuto will run into people she knows and say "hey," interacting with kids she's worked with and adults she grew up with. In this way, Canuto represents her home and serves it at the same time.
"I get to make my neighborhood and my community proud of me." That, she says, is the best part of her job.