By Elana Aurise, Reporter Staff
September 7, 2017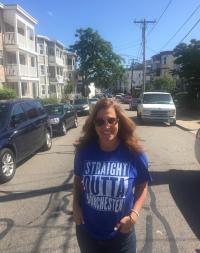 Dot native Lisa Aimola grew up on Fuller Street re-enacting scenes from "Charlie's Angels" with her friends. Today, she is still directing the action — only she is working from behind the camera.
Over the summer, Aimola has been directing her first feature-length film, a comedy starring Steve Sweeney, the Boston stand-up legend, and an all-star cast of local comedians, including Lenny Clarke and Tony V.
Aimola, who works as the director of community preservation for the city of Quincy, has earned a reputation as a rising star in Boston's independent film scene. She was a finalist in the Boston Film Festival awards lineup for her short film "Probation," and last year she won the Best Women in Film Award for "Love Unlocked."
Her latest project – "Sweeney Killing Sweeney" – has been shot over the last month at various locations around Boston, including the Public Garden, Kowloon's, and Laugh Boston.
The editing process has already begun and the film is expected to be finished by late fall. Aimola hopes to hold the premiere in early winter. Her next project is in its final draft phase, and she plans to share it with her new team members once it is finished.
The 51-year-old Aimola connected with Sweeney seven years ago during a chance encounter in Quincy's Squantum Point Park. "My best friend and I were shooting this short film and it was a scene where we needed a dog and we forgot the dog," she said. "We saw a man walking in the distance with a dog and he came over and agreed to help, and that man was comedian Steve Sweeney. Seven years later, here we are."
"Sweeney Killing Sweeney" is based on the concept of an aging comedian who catches a big break in Hollywood, but is haunted by the various Boston characters he created after he drops them from his repertoire. They rise from their fictional deaths to exact vengeance on the real-life Sweeney.
"My mom said if you can laugh every day, then that's a great thing, and that's why I signed on [to direct the film]," Aimola told the Reporter. "I think I'm inspired by people like Steve Sweeney and I'm inspired by Bill Braudis, the writer of "Sweeney Killing Sweeney." Sweeney is my Wonder Woman."
"To be able to film in and around Boston, the place I have always called home, was a huge inspiration to me, and the opportunity to laugh every day," she added.
Aimola has occupied a place in the world of film for the last 20 years. She is currently in a graduate writing program at Harvard's Division of Continuing Education. After a stint at a marketing firm and then time as a stay-at-home mom, she now has the time to juggle her full-time role for the city of Quincy and her calling as a director.
"The best part so far has been taking my childhood and bringing it into my adulthood," she said. "We were scouting in Dorchester for some footage we needed. I went up Fuller Street and was driving by and videotaping the two and three deckers, and it brought me back to playing games with my friends, creating adventures and stories."
For information and updates on the film, follow "Sweeney Killing Sweeney" on Twitter, Facebook, and Instagram.