By Bill Forry, Editor
August 9, 2017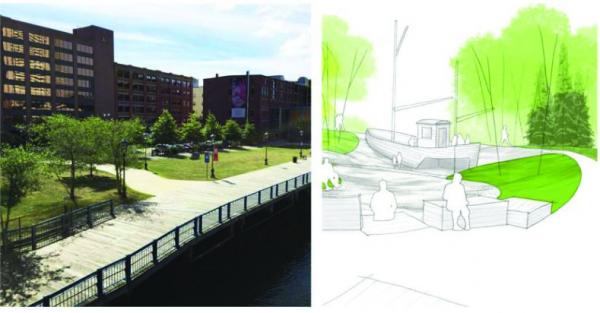 A groundbreaking ceremony for a new waterfront park named for Martin Richard will be held next to Fort Point Channel at 64 Sleeper St., Boston on Wed., Aug. 16 at 1 p.m. Mayor Martin Walsh, Governor Baker and Richard family will be on hand for the event, which includes a speaking program that begins at 1:30 p.m.
The one-acre, city-owned park will be built on vacant land next to the Boston Children's Museum. The Martin Richard Foundation has raised most of the funding needed to build the park and Martin's parents have helped to guide the design of the site, which will include a water play garden, bridges, a slide and a play ship that is accessible for children with disabilities.
Martin was 8 years old when he was killed in the April 2013 terror bombing at the Boston Marathon. The foundation that his parents started in his name invests in athletics, education and community groups, including many in Martin's hometown, Dorchester.
On Thursday (Aug. 17), runners, wheelchair racers and walkers are invited to join the Martin Richard Foundation for a memorial one-mile race at Saunders Stadium in Moakley Park in South Boston. The invitational is a family-friendly event event with races for ages 4 and up. The event begins with registration at 5 p.m.
More information is available online at teammr8.org.