Business
Percival Beer Company, the producer of Dorchester-inspired Dot Ale 1630, is planning to open a large-scale brewery at 181 Bowdoin St. next summer.
The move, which Percival owner Felipe E. Oliveira announced publicly for the first time on Wednesday, will triple the company's craft beer production that has seen "tremendous growth in a short period of time." Read more
By Bill Forry
Jun. 26, 2014
An emerging plan to build a multi-story condominium complex along a key stretch of Washington Street in Lower Mills is getting re-vamped this week after civic and merchant leaders pushed back against an initial proposal that they said was too tall and dense for the neighborhood's expanding business district. Read more
By
Lauren Dezenski, Reporter Staff
Jun. 26, 2014
Dorchester's Polish Triangle is ground zero for the housing development spilling into Boston's largest neighborhood. Case in point: At last week's meeting of the John W. McCormack Civic Association, which oversees Dot's northernmost village commonly called the Polish Triangle, members entertained four development proposals accounting for a total of 45 housing units, the bulk of which is within a radius of a block and a half. Read more
By
Lauren Dezenski, Reporter Staff
Jun. 25, 2014
Gene Gorman is focusing on three letters: RSA.
The new executive director of Bowdoin Geneva Main Streets operates on acronyms, something the one-time professor says used to drive his students nuts.
Gorman is anything but simply a former professor and his "RSA" acronym emphasizes that. The letters stand for Reporter, Salesperson, and Aide de camps, all reminders of the different roles he has to play as the head of the Main Streets organization. Read more
By Bill Forry
Jun. 25, 2014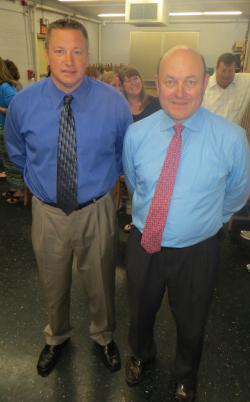 Adams Village Business Association Honorees: Det. Steve Charbonnier, left, and Tom CifrinoA Boston Police detective with deep roots in Dorchester and a businessman who is making a big investment in the neighborhood's future are being recognized this week by the Adams Village Business Association. Detective Steve Charbonnier and Tom Cifrino, president of Supreme Realty Trust, were scheduled to receive their honors at the association's June meeting, held on Wednesday evening at the Adams Street Library. Mary Kelly, the president of the association, said that the honorees are seen as leaders in Adams Village, each in his own way.
Charbonnier, who was a patrolman in Dorchester's Area C-11 for much of his career prior to his promotion to detective in 2011, is valued as much for his philanthropy as he is for his service as a cop. In recent years, Charbonnier, 44, has been the key administrator of the memorial fund named for his brother, Mark S. Charbonnier, a Massachusetts state trooper who was killed in the line of duty on Route 3 in Kingston in 1994. Read more
By
Gintautas Dumcius, Matt Murphy and Michael Norton, State House News Service
Jun. 24, 2014
Throwing the landscape for casinos in Massachusetts into chaos, the state Supreme Judicial Court ruled on Tuesday that an initiative petition repealing the 2011 casino law is eligible for placement on the November ballot. Read more
By
Gintautas Dumcius, State House News Service
Jun. 23, 2014
Raise Up Massachusetts, a group that had gathered signatures to put a minimum wage increase on the November ballot, said Monday they are ending their campaign. The group will continue to push for a ballot question guaranteeing earned sick time for workers. Read more
By
Jacob Aguiar, Special to the Reporter
Jun. 18, 2014
Outlaws and scholars: The Banshee Bar on Dorchester Avenue has become home base for the Boston chapter of the American Outlaws, a club that supports the US soccer team now making a run at the World Cup. Above, the scene in the Banshee on Monday before the US took on Ghana in their first round match. Photo by Michael Ratty
Pandemnonium reigned inside The Banshee Pub on Dorchester Avenue on Sunday evening as the United States defeated Ghana, 2-1, in World Cup tournament play. Strangers hugged, women were hoisted onto shoulders, and splashes of beer sprayed the room.
A small contingent of Ghana supporters on site were offered heartfelt handshakes and conciliatory embraces as images of their vanquished countrymen flashed on the bar's ten flatscreens. Read more
By
Andy Metzger, State House News Service
Jun. 13, 2014
Boston is among four U.S. cities in the running for a potential 2024 Olympic Summer Games bid, the U.S. Olympics Committee reported Friday. Read more