Home / The Lit Drop /
Top Patrick aide receives outpouring of support after heart attack
By Gintautas Dumcius
Apr. 4, 2011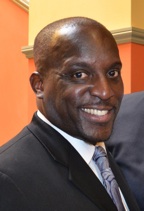 Ron Bell: On the mend after serious heart attack. Photo by Chris LovettA top adviser to Gov. Deval Patrick was released from the hospital Monday after suffering a massive heart attack.
Ron Bell, who serves as Patrick's senior adviser on community affairs, was leaving a Dedham meeting on Wednesday afternoon when he felt a shortness of breath and asked a friend to take him back to the State House.
His friend, Peter Lin-Marcus, instead took him to the emergency ward at Newton-Wellesley Hospital, where doctors ran tests and had an ambulance take him to Massachusetts General Hospital's intensive care unit, Bell said.
"I'm so glad to be alive," Bell, 48, told the Reporter on Monday.
After he came out of surgery, he received an outpouring of support, with visits from the governor, the governor's chief of staff William "Mo" Cowan, his cousin City Councillor Tito Jackson, as well as other family and friends.
"I believe God gave me a second chance. Maybe this is a lesson for all of us," Bell said. "Don't wait for a tragedy to be nice."
Bell pointed to a letter he received from a MGH secretary thanking him for his kindness to her and for his friends and family being understanding of the hospital's visitors policy.
Bell also praised the doctors and nurses at MGH. "They gave me the best of care," he said.
Bell said he will be getting some rest, but added, "I will definitely slow down and take care of myself when I see people treat each other with dignity and not forget the little people who are marginalized and ignored, and treated as invisible."
Bell is one of the state's most celebrated community and political organizers. Dunk the Vote, the voter registration organization he founded in 1992, was credited with bringing tens of thousands of new voters onto the rolls in Boston— mainly in communities of color.
He also served as deputy campaign manager of Patrick's 2006 gubernatorial run.