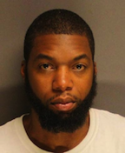 Henriquez: The 5th Suffolk state rep in a booking photo after his arrest on Sunday.For state Rep. Carlos Henriquez, what happens in the next day or so will determine his political future. Much of it will depend on what he says, and more importantly, what his colleagues and local activists do in response to his arrest.
The freshman Democrat was arrested early Sunday morning, on charges of domestic assault and kidnapping. Police said the 35-year-old lawmaker had been driving around with a woman and a verbal fight escalated into a physical one. He also refused to allow her out of the car, according to police, leading to the kidnapping charge.
He is scheduled to be arraigned on Monday morning, when his version of the incident could emerge. (Update: Henriquez entered a not guilty plea and must return to court on Sept. 27.) But the details in the police report and the time of the incident -- 4:30 in the morning around Northeastern University – do not offer a good start for the Democrat, who represents Dorchester and Roxbury.
Since this is an election year, several paths potentially lay ahead: Rep. Henriquez could take his chances with voters. There is some overlap between his Fifth Suffolk House District and the City Council's District 7. Then-Councillor Chuck Turner, indicted on bribery charges, ran for reelection and won handily. Henriquez is intimately familiar with that race, since he was Turner's opponent, running against him for the second time. (Turner was eventually convicted by a jury, booted off the council and replaced by Tito Jackson. Turner maintains his innocence while serving out his prison term.)
Another option: Rep. Henriquez could step down -- though no political figures or major supporters have asked him to do so -- and say he is not running for reelection. Local Democrats could then seek a candidate to replace him, such as a ward committee leader. Barry Lawton, who lost to Henriquez in the 2010 Democratic primary by 41 votes, could also mount a write-in campaign for the September primary.
Further complicating things – or, depending on your view, making them more interesting – is the fact that this year, the primary will be held on Thursday (Sept. 6) instead of Tuesday.
Althea Garrison, a former state representative, may have made a tactical mistake running as an independent this time, which places her on the November ballot.
Low voter turnout in the Fifth Suffolk District is a constant. Garrison, a perennial candidate, has usually amassed several hundred votes in each election she has run in, though never enough for a return to elected office.
Things could change this fall for Garrison. But that all depends on what Henriquez and local Dorchester and Roxbury leaders will do in the next few days, and what Henriquez has to say.