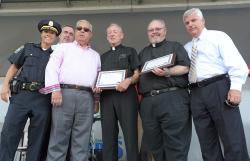 Father Richard Conway and Father Jack Ahern accepted their award as "Crime Fighters of the Year" during National Night Out events at Moakley Park in South Boston last week. Pictured are BPD Deputy Superintendent Nora Baston, Commissioner Ed Davis, Mayor Menino, Fr. Conway, Fr. Ahern and Suffolk County District Attorney Dan Conley. Photo by Isabel Leon/Mayor's Office
As a testament to their commitment to their community in the Bowdoin/Geneva section of Dorchester, Father Richard Conway and Father Jack Ahern of St. Peter's Church received "Crime Fighter of the Year" awards during "National Night Out" in South Boston last Tuesday.
The event was held at Moakley Park. The two rectors were presented the annual award by Mayor Thomas Menino, BPD Commissioner Ed Davis, Boston Police Department Deputy Superintendent Nora Baston and Suffolk District Attorney Dan Conley.
"Father Ahern and Father Conway are true leaders in the community," Mayor Menino said. "They make our streets safer and work every day to make sure that the children of Bowdoin/Geneva have every opportunity in life."
In her introduction, Baston cited Fr. Ahern's and Fr. Conway's strong relationships that they have formed with community members as reasons for their receipt of the award. Both have cultivated relationships with the BPD, the Suffolk County District Attorney's Office, the Mayor's Office of Neighborhood Services, the Bowdoin/Geneva Health Center, the Family Nurturing Center, College Bound and the local community centers, to name a handful.
"Their work within community reach well beyond the brick and stone walls of their church and extend to each and every street in the neighborhood, where you will find them most days, simply walking and talking to people," Baston said in her introduction.
Not only do the priests oversee St. Peter's Church, but they also are pastors at Blessed Mother Teresa Parish on Columbia Road and Holy Family Parish on Hartford Street. Both priests also support St. Peter's Teen Center, where hundreds of kids drop in and utilize the services. Baston cited the fact that the area to which the priests were assigned is very diverse and largely Cape Verdean, so Fr. Conway took it upon himself to learn Portuguese.
"And, while Fr. Jack [Ahern] may not speak Portuguese, his big, giant smile communicates his warmth and love of the people he serves," Baston added.
Fr. Ahern was very pleased to have received the award, but he said he did not think he deserved it as much as Fr. Conway.
"I think Fr. Conway was a more fitting recipient," Fr. Ahern said. "I'm there often, but he's there almost all the time and he's just a good presence."
Fr. Conway was also surprised to have received the award, but said "it's an honor to be the one picked."
"I thought it would be somebody involved with the neighborhood watch," Fr. Conway said. "There's a lot of other people doing an awful lot of work organizing neighborhood watch programs, and any one of them could have been chosen for the award."
Though Fr. Conway said does not think he has ever received an award or recognition like this, Fr. Ahern said he has recently received both a recognition from UMass Boston for working with the wider community and from the COMPASS School on Bowdoin Street for working for peace on the street.
Both priests are proud of the relationships they have built with the BPD and the District Attorney's office, as well as with the neighborhood watches and the residents of the community. Ahern said the Police and District Attorney have basketball games and other sporting events in the area, and over the past few years their presence has been very visible in the community. The amount of violence in the area had been reduced significantly in the few years he has been part of St. Peter's Church, Ahern added.
"I think everyone pretty much feels comfortable talking to the cop walking the beat or they can call the station," Ahern said. "They are very respected and that's been very critical for us."