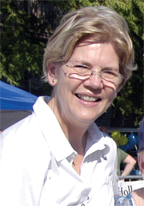 When Mayor Thomas Menino will endorse one or the other candidate has become one of the more interesting subplots in the Bay State's US Senate campaign saga. And that's mostly because restless reporters and ever fretful activists have decided it is.
"Menino is the 'X' factor in race for US Senate," one recent headline in the Lowell Sun said. Another, from the Wall Street Journal: "Power Broker Keeps Cards Close." And another, from the Boston Herald: "Menino sidesteps opportunity to endorse Warren."
During the Greater Boston Labor Council's annual breakfast on Monday, the speakers trained plenty of fire on incumbent Sen. Scott Brown (R-Wrentham) and threw plenty of praise at challenger Elizabeth Warren (D-Cambridge).
But Menino largely focused on former Gov. Mitt Romney and his vice presidential candidate, Paul Ryan. Referring to Ryan tagging the federal stimulus as "corporate welfare," Menino said, "Was it welfare that paved Dorchester Ave.? No, [it was] all your hard work."
More than a few people in the room thought they heard a subtle endorsement at the beginning of his speech: "Elizabeth Warren, our candidate for the US Senate, the Democratic candidate," Menino said. Afterwards, in a press availability, Menino said the decision still hadn't been made.
Asked by a television reporter whether it was unusual that the mayor of the capital city hasn't endorsed the Democratic nominee, Menino said, "No it isn't. I usually wait until the proper time."
A decision will come "very shortly," he said. (Worth noting: Menino did not endorse Gov. Deval Patrick, a fellow Democrat running for a second term in 2010, until Sept. 10.)
Asked by another reporter if Brown has separated himself from the Romney-Ryan ticket enough, Menino said, "No, he hasn't."
Menino pointed to Brown not voting to extend unemployment benefits. "I mean, let's get real about this, guys. You know, he's a nice guy, but I mean, you've got to be with people, the working people of Massachusetts. That's what I think about all the time. The people I represent, what do they need? When they're unemployed, they need unemployment benefits. They need health care. All those issues. I mean, he's a nice guy but I need a consistency," the mayor said.
So why hasn't he endorsed Warren?
"Too early," Menino said. There are 64 more days until Nov. 6, he added.
Inside the Park Plaza Hotel, Warren signs were posted on columns and flyers comparing Warren and Brown were placed on people's seats as union officials filtered in. State Rep. Marty Walsh, who is also a top labor official, took Warren around to the various tables, introducing her to union members.
On the stage, Brown was among the top targets. Brown is not a "good guy," Lou Mandarini, GBLC president, told the crowd. Some union members disagree, he added. "Don't hiss," he said, apparently in response to some light hissing from the crowd. "What you've got to do in the next two months is go out to your union meetings and explain to your members what the truth is and what's going to happen."
As for Warren: "One of the things that fascinates me the most about her is that when you're in a room with her, people want to stand next to her, people want to touch her," Mandarini said. "People want to be with her. That's what we need. I've never seen it. I've never seen it since Kennedy."
Both Warren and Menino are scheduled to speak this week at the Democratic Convention in Charlotte, North Carolina. Menino left on a plane bound for Charlotte Monday afternoon, and was due back in Boston Thursday today to vote in the primary, which is being held on the first day of school in Boston. The two Democrats were on the Wednesday schedule.
"I don't care what kind of truck he drives or what kind of barn coat he wears. I care about how he votes," Warren told the Labor Day crowd on Monday, noting the unemployment insurance issue and Brown blocking a presidential nominee to the National Labor Relations Board. "Are you ready to send Scott Brown and his pick-up truck back to Wrentham?" she asked before the audience applauded.
AFL-CIO chief Steven Tolman, a former state senator, also tore into Brown. "On all these commercials you hear on the radio every 10 minutes [he] says a lot of nice things that are special about Massachusetts but he neglects the most important thing: His voting record," Tolman said, according to the State House News Service. "And his voting record is clearly one-sided toward the haves and it seems like he's totally forgotten the middle class and the have-nots so we think it's important that our members are informed properly to make an intelligent decision and not be swayed by fancy commercials."
Before the breakfast got under way, several young people stood outside the hotel, handing out flyers calling Warren a "sell out." "Workers Beware!" the flyer stated in large type, pointing to Warren's role in a case that went all the way to the US Supreme Court and involved asbestos victims and Travelers Insurance.
"While Warren laughed all the way to the bank, these sickened middle-class workers are left with measly lifetime payouts that total 1/40th of Warren's big payday. Professor Warren owes these laborers an apology for putting her own financial gain ahead of their safety and well-being," said Nate Little, executive director of the Massachusetts GOP.
Material from State House News Service was used in this report.