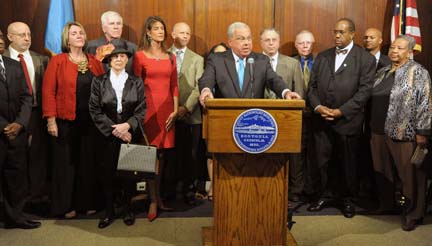 After more than two years of on-again, off-again negotiations, a tentative agreement between Boston teachers union leaders and the city of Boston was reached on Wednesday morning. The new six-year contract, if approved, will raise teachers' salaries only if they meet certain performance thresholds based on student test scores.
Mayor Menino praised the accord in a press conference on Wednesday: "This contract is a big step forward in taking our school system to the next level – it's what's best for our students, it works for our teachers, and is fair to our taxpayers," Menino said.
The $150 million contract, retroactive to Aug. 1 , 2010, still must be approved by the union members and the Boston School Committee. It includes a new evaluation system for teachers that would override the current seniority-based system to allow greater flexibility to principals in hires and transfers. Teachers, who presently earn an average salary of $81,633, will geta 12 percent increase in pay over the six year period.
"The Boston Teachers Union entered these negotiations seeking a contract that is good for students, affordable to the city, and fair to our members. We accomplished all we set out to do," BTU President Richard Stutman said in a statement. "We seek a school system that offers the best education it can for our students. We have accomplished that as well."
Both Stutman and BPS Superintendent Carol Johnson denied that this week's teachers' strike in Chicago impacted the Boston negotiations.
In an interview with the Neighborhood Network News on BNN-TV today, City Councillor John Connolly, chairman of the council's Education committee, offered a tough critique of the contract, calling it "an agreement to do the bar minumum." NNN news anchor Chris Lovett's interview with Connolly is here:
City Councilor Discusses New Teacher Contract [1] from Chris Lovett [2] on Vimeo [3].
-Reporter Staff