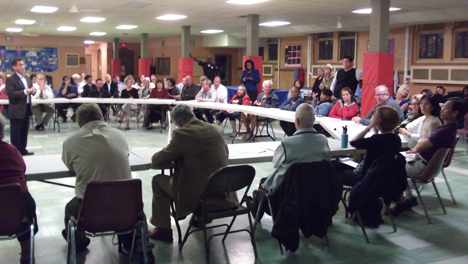 More than 100 residents, elected officials and members of the Boston Police Department turned out for a Monday evening meeting at St. Mark's Church to dicuss mounting concerns about prostitution along Dorchester Avenue. The meeting was moderated by District 3 City Councillor Frank Baker, whose office organized the "super civic" meeting— drawing from organizations up and down the neighborhood's main throroughfare.
"We want to ask for your help and ask for resources," said Baker to his audience. "We want to address the issue."
Baker has grown frustrated, he said, with the blatant, open-air prostitution that is evident along certain stretches of Dorchester Ave. In response to his own complaints— and those of constituents—Boston Police have cracked down and made arrests, but the problem has become a chronic one on several blocks of the avenue.
Capt. Richard Sexton, who commands the Area C-11 police district, explained the tactics the Boston Police Department have used to date and why prostitution is difficult to simply do away with.
"This is an ongoing issue," he said. "I was shocked to find out for myself. It's been an issue for quite a while. Prostitution is the oldest crime in the book. We try to deal with it through enforcement.
We try to push them out of the neighborhood but they just end up in a different neighborhood. There have been arrests on Columbia Road."
Sexton says Boston police officers have been arresting the young girls, the johns who pick them up, and the pimps who put them out on the street.
"We're trying to attack it at all angles," said Capt. Sexton. "Often it's women and young girls working. These young girls are being put out there by older men. From an enforcement standpoint, we see women get picked up and arrest them, but we have to prove it to the court. Many times they'll say 'he's my boyfriend' or 'she's my girlfriend' but they don't know each other's names. So officers will go undercover and make arrests for solicitation after the deal has been made. We arrest the johns who trade sex for money. We are constantly making arrests."
Drugs are often involved as well, police explained.
"Many of these females are working for themselves to support a drug habit," said Sgt. Detective Donna Gavin of the BPD's Sexual Assault Unit. "Men are behind them pumping them and taking their money. But it's difficult to prove."
Capt. Sexton believes it's a very convoluted problem.
"We've got drug dealers and drug-addicted females," he said. "They're dual problems. We can increase penalties around drug trafficking. Hopefully that will have an effect. If you get rid of the supply, you get rid of the demand."  
Councillor Ayanna Pressley believes penalizing the girls is not effective.
"Locking these girls up won't solve the problem," she said. "Many of them have fled homes of abuse and violence. We need to connect these girls to services and rehab."
Capt. Sexton agrees: "We need to get courts to provide services to women. Maybe alter their probation status to keep them off Dot Ave."
 
One audience member also echoed their sentiments: "We need programs to help the women. We need to provide incentives to get them off the streets. We need to keep in mind their constitutional rights because these girls don't know their rights."
Others believe the Boston Police Department should focus their efforts on catching the pimps.
"There should a task force that goes squarely against the pimps," said one concerned resident. "There should be a 10 most wanted list with their pictures up. They're the ones forcing those girls out there."
Councillor –at –Large Felix Arroyo agreed that the focus should be on men who drive the market.
"We need to look at ourselves as men," he said. "It's mostly men who are the pimps or the johns. It's the men who are exploiting these women."
Another suggested beefing up the human trafficking unit.
Other residents offered personal anecdotes of neighborhood problems that may be attracting prostitutes to their streets.
"There are low-hanging branches on my block," said a Dorchester Avenue resident. "Maybe trimming back trees will oust them."
Other possible solutions include more or better lighting, signage and electronic message boards such as the ones that post traffic conditions on highways.
"They don't like the attention," said another resident. "If neighbors work together to get rid of them, they will go away."
Councillor Frank Baker concluded the meeting by telling residents to call 617-343-4911 to report prostitution.