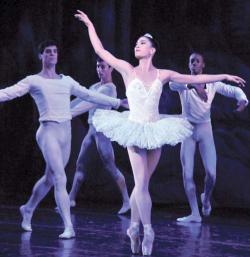 The José Mateo Ballet Theatre production of The Nutcracker opens at the Strand Theatre for a five-show run on Dec. 22. Photo by Karen Wong
Just before Christmas, hundreds of Dot residents will get to see the return of the José Mateo Ballet Theatre (JMBT) to Uphams Corner as the last stop on its 25th Anniversary Nutcracker Tour, which includes Duxbury, Cambridge, and The Strand. JMBT first performed the Tchaikovsky ballet at the Strand way back in 1988.
Company founder/ artistic director/choreographer José Mateo (who also plays the magical Dr. Drosselmeyer) conjures up a Victorian Christmas Eve party at which little Clara's dream is realized through enchanting scenery, sumptuous costumes, and spectacular dancing. Over 200 youngsters appear as Party Children, Mice, Soldiers, Polichinelles, Cherubs, Angels. About 10 percent of them live near the Strand. 
According to Julie Hayen Miller, JMBT Director of Communications, interest in the production from the Dorchester community has snowballed.
"This year we had over 70 kids at auditions at the Kroc Center in September (compared to 15 last year!)," Hayen Miller said.
The number of neighborhood children dancing in 2012 more than quadrupled over 2011. They range in age from 6 to 16. The Dorchester dancers are Christopher Henry (15), Joszyel Garcia(6), Thomas Gillis (9), Tiara Ransom (11), Jasmin Hasan (7),Trejure Lardeur (16), Qwaneyce Taylor (10), Aiyanna Ross (8), Michael McKay (6), Saje Crosby (7), Clementine Chesterman (10), Demiah Monae Crawford (12), Akeylah Roscoe Hunter (13), Grace Kiwanuka-Woernle (9), Kalala Kiwanuka-Woernle (12), Samantha Murphy (8), Lauryn Rivers (13), Mya Grady (9) and Jeliah Fernandes (8).
Cast members from Mattapan are Peyton Fox (12) and Kominia Howard (14).
Hayen Miller adds, "The Dorchester kids perform in all 3 locations - Cambridge, Duxbury and Dorchester.  So, whatever show you see will have some Dorchester residents."
Elisabeth Scherer, a member of the adult ensemble who grew up on Ashmont Hill, confirms she will return this year to dance the Dew Drop Fairy role, but as she notes, "Injuries happen."
 The Boston Foundation is partnering with JMBT to foster the Uphams Corner cultural corridor.  Co-sponsors include Mayor Menino & the Mayor's Office of Arts, Tourism, and Special Events, Boston Globe Santa, and Massachusetts Cultural Council.
Free tickets are being given to such Dot groups as MYCHILD Program Dorchester House, Dotwell, Project R.I.G.H.T., Roxbury Center for the Performing Arts, Quincy-Geneva Housing, Sportsmen's Tennis and Enrichment Center, and the Boys and Girls Clubs of Dorchester.
The three school performances run Wednesday- Friday. Public shows are Sat., Dec. 22 at 2 p.m. and 6 p.m.; Sun, Dec. 23 at 1:30 p.m. & 5:30 p.m; and Christmas Eve at 1 p.m.. Tickets run between $15 and $50. To reserve seats call 617 354-7467 or go to ballettheatre.org [2].