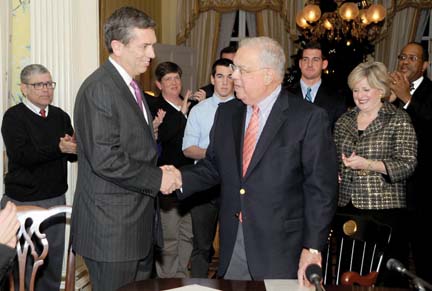 On Friday, Mayor Thomas Menino rose from his desk at the city-owned Parkman House to swear in School Committee member Michael O'Neill for a second four-year term on the seven-member panel. On Monday, after the first City Council meeting of the year, the mayor lunched with councillors on the 33rd floor of the UMass Club in the Financial District. And on Tuesday, he met with reporters, standing during most of a press conference highlighting the shoe company Converse's plans to bring 400 jobs into a building next to TD Boston Garden.
If not yet full-time, the slimmer and slower 70-year-old Menino is back at City Hall when he's not at the Parkman House on Beacon Hill or at Spaulding Rehabilitation Hospital, where he has his physical therapy sessions.
The therapy – he's still recuperating after lengthy stays at Brigham and Women's and Spaulding due to a variety of ailments – is proceeding ahead of schedule and he hopes to return to his Hyde Park home by next week, he said.
His annual State of the City address is coming up, on Jan. 29 at Faneuil Hall.
On Friday, a New England Cable News reporter asked him if he'd have the stamina to stand, since lying in an uncomfortable hospital bed had led to the mayor losing muscle mass. The mayor batted the question away. "Of course I'll be able to stand. I've already tried. I've practiced it already. I'm ready to go," he said. He added: "You guys will see it. It will be live and in color. Popping out of a box. 'Wow, he's back.' "
Menino said he was determined to be able to run a "marathon," figuratively speaking. "Not the 26 miles. I have another marathon to run," he said. "And I want to make sure I'm able to do it." Another television reporter, almost quietly, asked, "Can you be more specific about that?" The crowd, assembled for O'Neill's swearing-in, laughed. "I have a city to run. We have a lot of issues to deal with," Menino replied, adding that he wanted to be sure he has the "stamina" to do deal with them.
When a third reporter asked if people should assume he's running again, Menino said, "You don't assume anything."
He pointed to the changes to the city's school assignment overhaul and job creation efforts. "That's more important than worrying about Tom Menino running for reelection," he said. "I mean, that to me is not the most important thing."
But whether or not Menino will run for a sixth four-year term is a hot topic among local politicians and their operatives, who will be paying close attention to the mayor's activity, in public and behind the scenes, in the months leading up to April, when nomination papers can be pulled. In 2009, Menino formally announced in late April that he would wage a campaign for a fifth term.
There is the inevitable follow-up to will-he-run question, which some local columnists are already taking it upon themselves to answer in a negative way: Should he run?
The on-the-record responses do not cover a wide spectrum. Congressman Stephen Lynch, a South Boston Democrat, said yes, noting that "he looks good" in recalling a meeting with Menino last week.
"I know he's got a little weakness in his legs because he's been on bed rest for a while, but he looks good. I support him 100 percent. I think he should run. I think he's important to our city. And I think he has his best days in front of him."
Asked if the mayor should run again, District 3 Councillor Frank Baker said, "The mayor should do what's best for the city," and left it at that.
Councillor At-Large Felix Arroyo, who attended the UMass Club luncheon, echoed Lynch. "If Mayor Menino wants to run for reelection, why shouldn't he?" he said
And District 4 City Councillor Charles Yancey, a frequent critic of the Menino administration, voiced a similar sentiment. "I think that's up to his family and his doctors," Yancey said. "It's really up to the people." Council President Stephen Murphy called Menino a "solid leader" for the city. "I believe he will," Murphy said of a sixth-term run.
Others, like state Rep. Linda Dorcena Forry, and District 7 City Councillor Tito Jackson, say it's a decision for the mayor and and his family.
"He looks great," Rep. Forry said. "He has the energy, I think, to run again. And he's done a great job. And as a leader of the city, who's done it for 20 years, it's time to reflect as well."
When asked about Menino, Barney Frank, an ex-congressman and former City Hall aide to the late Mayor Kevin White, said, "It's a mental not a physical issue. If he's healthy, sure."
Frank recalled a quote from New York Gov. Al Smith about his successor, Franklin Delano Roosevelt. Smith was once pressed on whether Roosevelt could succeed him as governor, given that he was in a wheelchair. According to Frank, Smith answered, "You'll be surprised how rarely the governor's called upon to do acrobatics."