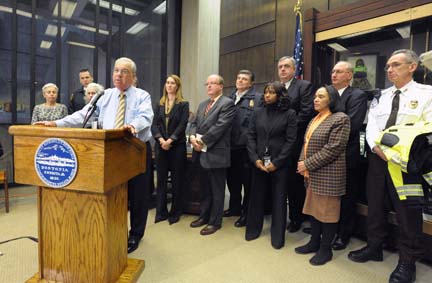 A snow emergency and parking ban will begin at noon today as the region braced for what could be a blizzard of historic proportions. The National Weather Service is also advising people not to travel after noon on Friday.
"This is going to be a very serious storm," Mayor Menino said in a press conference on Thursday. "Safety is our number one priority, I want to stress that the best thing everyone can do Friday and Saturday is to stay home. Stay off the roads, stay safe and let our Public Works crews work."
The city of Boston issued the following information:
· Schools will be closed Friday
· A Snow Emergency and Parking Ban will go into effect at noon on Friday.
· The City's non-essential staff members are asked to stay home on Friday.
· Employers are asked to allow employees to work from home where possible.
The Mayor has activated the City of Boston Storm Center to provide information and service to Boston residents for all storm-related issues. Residents with storm-related questions or concerns should call the Mayor's 24-Hour Hotline at 617-635-4500 which will have extra staff on hand to field any possible increase in calls due to the storm. The Mayor's Storm Team will continue to monitor the latest weather models and forecasts and will update the public with further information as it becomes available.
While a snow emergency is in effect, parking is prohibited on all major arteries in Boston [1]. Mayor Menino urges everyone to use public transportation when traveling. Residents are reminded to remain at home throughout the duration of this snow event and businesses tomorrow should consider asking employees to work from home.
Mayor Menino also reminds residents of the following:
· On streets other than major arteries, do not park within 20 feet of an intersection or further than one foot from the curb, as this impedes access for both emergency vehicles and snow plows.
· Parking space savers must be removed no more than 48 hours after a snow emergency is lifted. The City's Department of Public Works will remove space savers left out beyond this period.
· Do not throw snow back into the street. "Throwbacks" force the city to remove snow from the same street twice.
· Shovel out fire hydrants, catch basins and pedestrian ramps close to your home.
· Property owners are reminded to shovel snow from sidewalks that abut their homes and businesses and any handicapped ramps close to your homes or business.
· Do not double-park.
· Please check on elderly neighbors and others in need.
· For additional snow and cold weather safety tips, please visit www.cityofboston.gov/snow [2]
To receive notifications about emergencies from the City, register for the Alert Boston network at http://www.cityofboston.gov/alertboston/ [3]. You can also follow @NotifyBoston on Twitter.