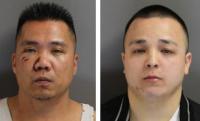 Officers on routine patrol on Dorchester Avenue early this morning watched as a man wandered into the middle of the street, then collapsed, blood pouring out of the back of his head, the Boston Police Department reports.
Police say the victim was attacked by two men in the parking lot of the 1221 Cafe, 1221 Dorchester Ave. shortly before 1 a.m. According to a police account:
"Just before the victim was transported he pointed towards a motor vehicle and stated the male driver was the suspect who stabbed him. The vehicle was parked on Dorchester Avenue across from 1221 Cafe. Officers observed a 2006 Infinity M35 color brown bearing Massachusetts plates attempt to pull off. Officers ordered the motor vehicle to stop. Officers approached the driver side window and observed a male operator with bruising and lacerations to his face. The male also had blood on his hands and arms. The male was removed from the vehicle and placed under arrest."
The victim, 42, was taken to a local hospital and is expected to survive, police say.
Dung Q. Truong, 35, the alleged hammer wielder, and Khang Truong, 25, both of Dorchester, were charged with assault and battery with a dangerous weapon. Police say the pair punched and kicked the victim before Dung Truong retrieved a hammer and struck the victim with it.
Khang Truong, police say, was also charged as being a fugitive from Connecticut.