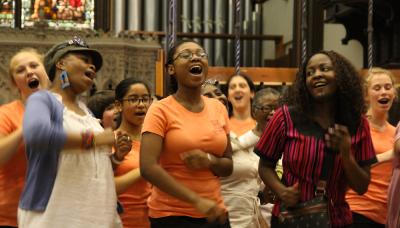 Boston City Singers
Members of the local community will unite for a family concert on Saturday, April 27 at 7 p.m. at Saint Mark Church. The free, hour-long event is being organized by Dorchester-based Boston City Singers to celebrate area children and their efforts to promote peace through song.
"Our community is strong and nowhere is our resilience more visible than in our children and their beautiful voices," said Jane Money, Boston City Singers' founder, artistic and education director. "The youth of our neighborhoods do so much to uplift us every day. This is designed to be an evening to celebrate them and our shared spirit of community and peace."
Participants in the celebration of support will include:
• Boston City Singers
• Cambridge Children's Chorus, a division of Boston City Singers
• All Saints (Ashmont) Choir of Men and Boys
• Junior Choristers of St. Paul's, Cambridge
Mystic Chorale's Founder and Artistic Director Nick Page, a Boston-based song leader, composer, and author, will be also be joining in the celebration with Artistic Directors Jane Money (Boston City Singers), John Robinson (St. Paul's) and Andrew Sheranian (All Saints Choir of Men and Boys).
Jane Richard, a young member of Boston City Singers' Kodaly Singing Class, and her mother Denise were seriously injured in the Boston Marathon attack. Jane's older brother Martin was killed by the blast.
Location
1725 Dorchester Ave.
Dorchester
,
MA
02124