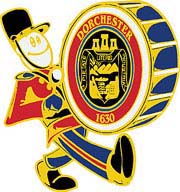 Sunday, June 2 at 1p.m.: This is the 50th anniversary of the Dorchester Day parade.More than 100,000 people are expected to turn out for this Sunday's Dorchester Day Parade. The parade starts at 1 o'clock from the corner of Richmond Street and Dorchester Avenue in Lower Mills. It follows a route up the avenue [2] to Columbia Road.
This is the 109th Dorchester Day and the 50th anniversary of the modern-day parade, which started in 1963. It will be packed with marching bands, floats and politicians.
Dorchester Day started back in 1904 [3] as a commemoration of the town's settlement in 1630— one month before Boston. In more recent times, Dorchester Day has become a celebration of the multi-cultural mix that is modern-day Dorchester. The emphasis is on bands, dancers and colorful floats that highlight the neighborhood's robust civic and cultural life.
Among the dignitaries who will be part of the parade's first division will be a contingent of former chief marshals who will collectively serve as this year's chief marshals; the honorary Mayor of Dorchester Kelly Butts, who raised thousands of dollars to help cover the costs of the event ; and the Young Miss and Little Miss Dorchester contest winners, Adrianna Bravo, 12, and Rachel Christopher, 7, respectively.
Here is the full roster of the parade participants as of May 30 [4].