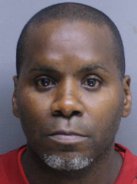 The Boston Police Department report arresting the man they say had robbed five McDonald's and Dunkin' Donuts outlets in Dorchester, Mattapan and Roxbury over the past two weeks.
Richard Calderon-Colon, 40, was sleeping in a car parked outside 27 Ames St. when officers woke him up at 7:54 a.m. today and arrested him on charges related to the robberies over the past couple of weeks, police say.
In one of the cases, at the Dunkin' Donuts on Morton Street in Mattapan, police say, Calderon-Colon ordered a coffee and a donut, ate the donut and then asked for another, after which he pulled out a handgun and demanded money. Police say he also first ordered coffee in three of the other four robberies [2].
In addition to the Morton Street Dunkin' Donuts, he's also charged with holding up the Codman Square McDonald's and the Edward Everett Square Dunkin' Donuts.
Calderon-Colon is scheduled for arraignment Monday in Dorchester District Court, police say.