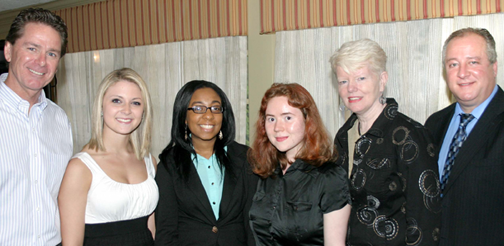 The Saint William's Dorchester Fund has its roots in the parish band that was a popular pastime for hundreds of neighborhood kids. In a nod to that heritage, the fund run by band alumni
Makes it a point to recognize and support artistically and musically talented students with scholarships.
At the Fund's "Dorchester Social Evening and Scholarship Awards Ceremony" on Saturday, May 18, scholarships were awarded to three recent high school graduates residing in the Dorchester area: Molly McKinnon, Nassika Dabel, and Ashlin Michell.
The Saint William's Dorchester Fund, established in 2011 in memory of Savin Hill's Saint William's Band, chooses a number of students each year from Dorchester and grants each a $1000 college scholarship on the basis of academic achievement, community involvement, and excellence in music and the arts.
Jim Burke, director of the Saint William's Dorchester Fund and former member of Saint William's Band, said the fund aims to reward well-rounded students with a demonstrated talent in music or the arts.
"Every single one of our winners has had a GPA of 3.8 or 3.9 at a minimum. They do community service to a degree where you wonder how they have any time to study," said Burke. "They're not only involved in music or arts but in a lot of cases they're also teaching younger kids."
According to Burke, the fledgling fund hopes to increase its resources; the number of scholarships given out has risen each year, starting with one in 2011, two in 2012, and three this year; Burke aims to have the funds to award five scholarships in the near future.
Additionally, the fund plans to expand its reach and influence in the community. Burke hopes to plan a Dorchester talent show with middle school and high school divisions, potentially offering cash prizes to the winner.
"It would be great...if we could inspire kids to take their community involvement and their academics and their musical ability more seriously," said Burke. "One of the ways to get more kids to apply for this scholarship is to give them a chance to showcase their talent."
This year's winners displayed a variety of talents, both artistic and otherwise: Ashlin Michell was the lead violinist for the New England Conservatory's Youth Orchestra, and Nassika Dabel, accomplished with both the clarinet and saxophone, is closely involved with a charity called Clothing Haiti.
Kelly McKinnon, another of this year's scholarship winners, was chosen in part for her long-term participation in the St. Brendan's Color Guard. She participated in the program herself for many years, and has been teaching children in the Color Guard for the past few years.
"It's such a beautiful sport, and not many people realize it," she said. "I've been doing it for so long, I can't imagine my life without it. [Color guard] has helped me grow as a person because it's so diverse and expressive."
According to McKinnon, performing in a color guard combines many different forms of art; because of this, it is not considered a sport by many schools, and color guard performers are not typically eligible for athletic scholarships. McKinnon, headed to Boston College next year to study nursing, said she appreciates the scholarship because of its recognition of the arts and the financial boost it provides.