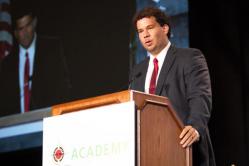 George Deveney: Bit by "education bug"
From a young age, Dorchester resident George Deveney knew he wanted to be involved in education. As a child growing up in Gainesville, Florida, he said that his mother would tell him to go around the neighborhood and invite other kids to informal summer school classes on his back porch.
His mother, an educator who taught students from grade school to college, gave him the "education bug," he said. It's no surprise, then, that Deveney is now a prized part of City Year, a non-profit organization that partners with public schools to help keep at-risk youth in school and focused.
However, he wasn't always so focused on school.
When Deveney was 12, his mother died after a drawn-out battle with cancer. Deveney, originally from Massachusetts, moved in with his aunt and uncle in Dorchester and attended the Lexington Christian Academy from 8th to 12th grade.
"My mother died when I was in 7th grade, and so 8th grade was rough, you can imagine. Lots of detentions," he said. "I didn't really apply myself. But by tenth grade, I realized I wanted to run for student government. And they wouldn't actually let me, because they said I was detention-prone. So I made a real commitment to doing things differently, and my senior year, I was the student body president."
After graduating from high school, he attended Eastern College (now Eastern University) in Philadelphia, where he played basketball and majored in marketing - about the furthest thing from working at a non-profit, he admits. After graduating in 2001, Deveney got a job in sales. Though he was making money, he wasn't truly satisfied with his work, and the September 11 tragedy made him think about his future.
"That really made me stop and re-evaluate things," he said. "I had always thought that I was going to do something more with life, that I was going to make an impact. I decided I wanted to do something that I was really passionate about."
He went to Spain with cousins, and there he completed the 500-mile El Camino de Santiago pilgrimage, a "truly amazing experience." After coming home, Deveney was confronted with the decision of what to do next.
"Next thing I know, it's summer of 2002, and I was asking myself, 'What am I going to do in September?' And I saw an ad [for City Year] in the newspaper that said 'What are you doing in September?' Growing up in Boston, we're kind of used to seeing City Year," he said. "Everyday on the T, I would see the Cori members in their red jackets and khakis and Timberland boots. We used to make fun of them, and say we were going to join just to get the free boots, and then quit."
He went to go a City Year information session in Philadelphia, and decided to sign up.
"It was like a light came on. I was so excited about working directly in schools with kids," Deveney said. He describes his year working as a City Year AmeriCorps volunteer as "life-changing."
"I wasn't directly teaching, but I was working in the classroom, pulling kids out of class for tutoring and mentoring, running after school programs, basically being a full-time good role model. It was a positive experience for me, so I wanted to present it to other young people," he said, explaining his decision to join City Year Philadelphia's recruitment staff. Eventually, Deveney became the recruitment director in Philadelphia. He met his future wife, Kristen Deveney, while still in Philadelphia.
"I saw the Red Sox sticker on her car in Philadelphia, so I knew she was legit," he said, laughing.
The couple had thought about moving back to New England - Kristen's family is originally from Hampton, NH - and when Deveney found out that one of his cousins had been diagnosed with a rare form of cancer, that sealed the deal. The couple moved to Dorchester in the summer of 2007, to be with family. Deveney took a job at the City Year headquarters in Boston as the national recruitment director, where he continued to show exemplary leadership. Deveney was the first non-Comcast employee to be invited to participate in the Comcast Fundamentals of Leadership program, and he was involved in LEAD City Year, a high-potential program for City Year employees.
Through this program, he made an exploratory trip to London, and for the next two years, he balanced his job as recruitment director with helping to start a City Year in London. He was eventually asked to be the start-up director in London. Though he faced some initial skepticism about the London program, things turned out well.
"We would joke that entrepreneurial spirit left on the Mayflower," he laughed, saying the London team encountered cynicism from some older folks who thought that young people would not want to participate. "We found that it was the exact opposite. Young people are the same, and the challenges that communities face are the same."
When he arrived home from London after seven months, Deveney began to settle into his new job as Director of New Site Development. Since 2010, he has directed the development of five new City Year sites in Denver, Sacramento, Jacksonville, Orlando, and Tulsa, and is currently working on two in Baltimore and Las Vegas.
"While I don't get to work directly in the schools anymore, I feel that the work I do lays the foundation for students to be impacted positively," he said.
On July 17, Deveney was awarded a Comcast NBCUniversal Leadership Award, City Year's most prestigious alumni recognition. Of City Year's 18,000 alumni, less than half of one percent receive this award, and Deveney was honored to be one.
Michael Brown, co-founder and CEO of City Year, said Deveney is incredibly dedicated to his work and to social change, citing his decision to put everything on hold to start City Year London.
"He's tremendously talented at gathering people, and he has a magnetic personality," said Brown. "He gets people excited about big things."
Deveney is proud to live and work in the neighborhood.
"I think that we live in the best section of Boston, without a doubt," said Deveneny, who currently resides in the Lower Mills/Cedar Grove area of Dorchester with his wife, who works in operations for City Year, and their and rescue dog Stella. Deveney's grandfather was born in a Dorchester House on Oakton Ave., and his mother's family has resided in Dorchester for many years. The family business, Deveney & White Monuments on Gallivan Blvd, is still in Dorchester.
"Dorchester is in my blood," he said.
Looking to the future, Deveney said that he hopes to expand his family, and grow his team at work.
"I'm passionate about making sure that young people have every opportunity to be great. I think that oftentimes, especially in tough urban climates, kids just don't have the resources. They come to school needing a lot more than a good lesson every day," he said. " I've been with the organization for 11 years, and I wouldn't trade a day."