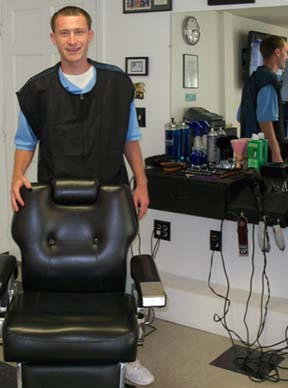 City Legends Barbershop: Michael Smith owns the newly-opened shop in Lower Mills. Photo by Brianna MacgregorMichael Smith, a local barber formerly working in Neponset, has come a long way from cutting his friends' hair in a makeshift basement barber shop during his high school years.
On July 19, Smith held the grand opening of his own shop, City Legends Barbershop. Located at 1173 Adams St in Lower Mills, the spacious shop offers parking out back and a video game station for waiting customers.
After cutting hair in Neponset for seven years, Smith, 27, spent three months doing haircuts in his customers' homes while waiting for the perfect barbershop location to open up. Smith said that it was "a tough few months to get through," but that he got lots of support from previous customers.
"People were loyal and waited for me to open up a shop," he said. Smith has shown the same loyalty to his customers - according to him, the way to build a good reputation and a loyal client base is "through hard work and giving everything you have to the customers, working through lunch, staying late, and sacrificing a lot."
"Being a barber, you put all your time into one neighborhood, and if you ever leave you have to stay close to your customers," said Smith, who added that his Adams Street location is convenient for his old clientele.
Smith mentioned that he wants to get his business involved in local charity work, using his shop to fundraise and support local youth sports, schools, and organizations like Standish Village, which is right across the street. Smith said that having his business involved in the community is a primary goal.
"When you work for someone else, all you can do is show up and work. You can't get [the business] involved in fundraisers or charities," Smith said.
Smith hopes to raise awareness of his new position in Dorchester, to alert old customers and attract new ones.
"Without the support of the neighborhood, and loyal customers, I wouldn't be in the position that I am today, being able to own my own shop," he said.
For Smith, the barber shop is a family affair - he wanted to build "a better life for his wife and son. Smith's five-year-old son Jayden can be seen frequently around the shop, and many customers know him.
"He loves hanging around the barbershop. Sometimes, he sweeps," said Smith, laughing. So far, Smith loves running his own shop, and said that Dorchester is a great place to work, citing the involved and friendly community of residents and businesses. He said that business has been picking up, and he's even looking to hire some barbers to work with him in the shop.
"There's no better feeling than opening that door when it's your business, seeing the faces that you care about, and showing up to do what you love every day," he said.