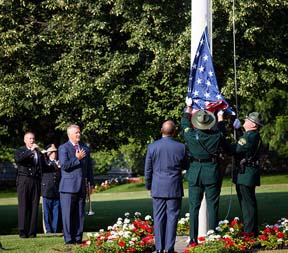 At 8:40 a.m. Wednesday, Gov. Deval Patrick stepped down the front stairs of the State House with a folded American flag in his arms, beginning a commemoration for destruction that took place 12 years prior.
In the blazing sun, Patrick walked the flag to the bare flagpole on the West Lawn, and paused while the "Star Spangled Banner" was sung.
As state officials looked on from the steps in silence, two state environmental police in wide-brimmed hats then raised the flag to the top of the pole and then lowered it to half-mast.
Two horn players then played taps, and the assembled observed a moment of silence before Patrick walked back to the steps where people were seated.
Patrick, Attorney General Martha Coakley and others then read the names of those with Massachusetts connections who were lost in the Sept. 11, 2001 attacks.
The event, one of many on the anniversary, commemorates an attack in which planes from Logan International Airport were transformed by terrorists into crude missiles, which brought down the World Trade Center in New York City and reshaped the country's domestic and international policies.