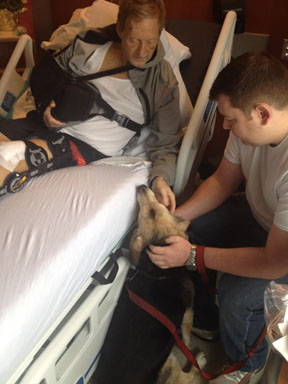 Canine caregiver: Lucy greets John Miles in his hospital bed.It was a holiday reminder of how "man's best friend" got the name.
"We don't hear stories like this too often," said MSPCA Public Relations Director Rob Halpin on Thursday. "This rises to the top of very novel and heartwarming events and speaks to the bond that is inherent that people have with their pets."
Dorchester resident John Miles was walking his son's dog Lucy on Monday, Nov. 25, but when owner and pet crossed Neponset Avenue, both were struck by a car. Miles blacked out with fractures in both legs, a broken arm, and multiple facial fractures and Lucy was left with a torn ACL and a broken back right leg.
Lucy, a husky-beagle mix, knew Miles was in trouble and hobbled to a nearby dentist office to get help. After barking persistently outside the door, Lucy got the attention of the people inside and led them to Miles. She then stayed by his side until the ambulance arrived.
Daughter-in-law Caitlin Miles heard about the accident by phone, when animal control officers showed up at the house with Lucy. Her husband and mother-in-law were home and her husband called her to let her know.
John Miles was not carrying identification on his walk, and police were able to find the home based on Lucy's tag, according to Halpin.
"It was just a relief; at the time I was just told there were injuries and didn't realize the extent of them," Caitlin Miles said. "Knowing ultimately he'll be OK, it will just be time, and that he's still alive is just remarkable."
Lucy: Husky-beagle mix was also injured in Neponset Ave. accident.Miles said her father-in-law has been walking those same streets for 40 years, with different dogs over that time.
Police told the family that the driver had stopped but that an investigation was still ongoing and no further information was available. Boston Police have not yet responded to a request for information from the Reporter about the accident.
The Thanksgiving holiday, which was just a few days after the accident was an even more thankful day than usual, Caitlin Miles said.
"It was not a normal Thanksgiving; we still tried to get together and then we took turns going to the hospital to see my father-in-law," she said.
Lucy has spent much of the past few weeks moping around the house, missing Miles, who has been in the hospital since the accident. Caitlin Miles recalled that the family got the now 8-year-old dog at an animal shelter in Salem when she was a puppy.
"She was just cute and loveable and an unusual mix, something you don't usually see," she said. "She had a great personality and there was just a click."
John Miles underwent shoulder replacement surgery this past Thursday, and Lucy had surgery of her own on her leg the following day.
Lucy's surgery came to about $5,000, but much of that was covered by a fund set up for the family. As of Thursday, Dec. 12, the fund had just shy of $3,000, according to Halpin. Donations can still be made at www.mspca.org/helplucy [1].
Angell's Emergency and Critical Care Unit on South Huntington Avenue sees between 50 and 75 pet emergencies per day, but Lucy's is a special breed of story, Halpin said.
"As rare as it is, it's equally universal," Halpin said. Dog owners who hear the story all have stories of their own loving pets' loyalty.
Caitlin Miles said she is much more wary around crosswalks. "It makes you more aware that no matter how in control you are, other people are not in control," she said.
Meanwhile, Lucy has become something of a celebrity, and Caitlin Miles said she deserves it.
"She went right to action, getting help," Miles said. "Minutes can make a big difference."
Update: On Fri., Dec. 13, Lucy underwent surgery at Angell Animal Medical Center to repair torn ligaments in her leg. The surgery was performed by Dr. Meghan Sullivan and pronounced a success, according to Rob Halpin, a spokesman for Angell.
"After a night in the hospital to recover, Lucy will head home tomorrow," Halpin said. "Her family is overjoyed that she is coming back to them. And they are profoundly grateful for the donations that flooded in as a result of the worldwide media attention. More than $20,000 has been raised, much more than the cost of her surgery."
The additional money will stay in the MSPCA's Pet Care Assistance fund that pays the medical care costs for thousands of homeless animals in the MSPCA's three animal shelters; and provides financial assistance to pet owners who cannot afford their medical bills, as is the case with Lucy.