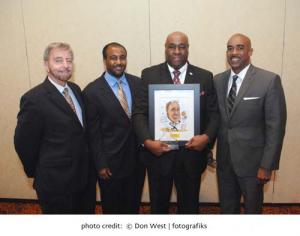 Michael Vance, ABCD Vice President, Field Operations, holds Ruth M. Batson Advocate of the Year Award from the Providers' Council. (l-r) ABCD President/CEO John J. Drew; Vance's son Nicholas Vance, Teen Director, Yawkey Club of Roxbury; Vance; and Michael Weekes, President & CEO, Providers' Council. Photo by Don West
Michael Vance, Vice-President, Field Operations, Action for Boston Community Development, has been recognized recently by Noble & Greenough School in Dedham and Massachusetts Council of Human Services Providers for his significant contributions to the Greater Boston community. Vance is a Dorchester resident who lived for many years in Mattapan.
A longtime community leader, Vance has served on the boards of several community and social justice organizations and currently oversees ABCD's 13 neighborhood centers that provide tens of thousands of low-income Boston residents with access to housing, food pantries, child care, fuel assistance, job readiness programs and more.
"It's no surprise to me that Mike has been honored by these two organizations," said John J. Drew, ABCD President/CEO. "His tireless work on behalf of the 100,000 people ABCD serves each year makes a difference every day in the lives of those struggling for a foothold on the ladder of economic opportunity."
On October 21, Vance received the 2013 Distinguished Graduate Award from the prestigious Noble & Greenough School for his work at ABCD and his accomplishments as a community leader. An alumnus of Noble & Greenough, Vance told the students, "I have no doubt in my mind that every one of you will do well, but the question is 'will you do good?' That's the real challenge."
On November 6, Vance was presented with the Ruth M. Batson Advocate of the Year Award presented each year by the Providers' Council to an individual demonstrating exemplary conviction, devotion and tenacity in fighting for the resources necessary for individuals to reach their greatest potential.
"I'm humbled and honored to be chosen for these two awards," said Vance. "I always felt that it was a privilege to have the opportunity to work in the community alongside so many dedicated, terrific people. Noble & Greenough gave me the tools to move forward in my life and the Providers' Council is always there, fighting to make things better for people in need and those providing services. I couldn't do my job without their support and the help of my colleagues."