A week after he was whisked away from a Medford courtroom in handcuffs, state Rep. Carlos Henriquez remains undecided about stepping down from his House seat, a person close to his situation said Tuesday night. Top officials, including Gov. Deval Patrick, House Speaker Robert DeLeo, and Mayor Marty Walsh, have already asked the Dorchester Democrat to resign.
The calls came on Jan. 15, just hours after a six-person Cambridge District Court jury had convicted him of assault and battery on a woman he had been dating. Judge Michele Hogan, who said she was concerned that Henriquez did not appear remorseful about the assault on Katherine Gonzalves in the summer of 2012, sentenced him to serve six months, and ordered him to complete a program for batterers and stay away from Gonzalves.
If Henriquez chooses not to resign, House leaders will likely move towards expelling him. "Based upon the conviction today on an offense which I consider to be extremely serious and I know that the members of the House consider to be extremely serious, I am asking that Rep. Carlos Henriquez immediately resign from his position as representative of the House," DeLeo told reporters last week.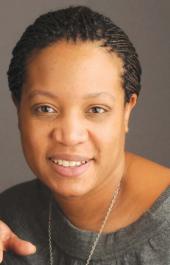 Karen CharlesAs the trial played out, a state official said she would consider a run for the Henriquez seat if he resigned. Karen Charles, currently the chief of staff in the state Department of Telecommunications and Cable, is a Dorchester Democrat who lives on Meetinghouse Hill. She previously served as chief of staff at the MBTA and worked in the late Councillor Bruce Bolling's office. "For me, it's about serving my community," she said on Wednesday. Asked if she thought Henriquez should resign, Charles said it is his personal decision to make, adding, "he was judged by a jury of peers."
Charles grew up on Olney Street. Her husband is Kevin Peterson, who worked on former state Rep. Charlotte Golar Richie's mayoral campaign and her first campaign for the House.
Henriquez was elected in 2010, replacing Marie St. Fleur, who had stepped down before taking a job in Mayor Thomas Menino's administration. He served on Mayor Walsh's transition team and was recently appointed vice chair of the Legislature's Black and Latino Caucus, a move that put him on track to chair the caucus in 2015. The appointment was seen as a sign that his fellow lawmakers felt he would emerge from the trial with a "not guilty" verdict.
The narrative that led to the assault conviction began in July 2012 in Arlington. Gonzalves testified that Henriquez had held her down and punched her and that she had jumped out of a rented car as Henriquez drove them through the area near Northeastern University. Henriquez's attorney, Stephanie Soriano-Mills, claimed the victim's story was inconsistent and unsuccessfully asked for a dismissal of the case after a previously undisclosed police report surfaced during the trial. After Henriquez was led away, Soriano-Mills called the sentence "harsh," since the lawmaker was charged with a misdemeanor and did not have a prior criminal record. She added that they plan an appeal.
Charles's name is not a new one in electoral circles. Local activists floated her name in 2010, when Uphams Corner's St. Fleur stepped down.But Charles, then at the MBTA, said she was focused on her day job. Henriquez, who had run unsuccessfully against City Councillor Chuck Turner, eventually jumped into the race and narrowly beat fellow Democrat Barry Lawton in a September primary.
The Fifth Suffolk House District includes Uphams Corner, Bowdoin Geneva, Grove Hall, and part of Roxbury and Fields Corner.
Members of the Ward 15 Democratic Committee, a group that holds significant sway in the district, were incensed when they heard about the charges against Rep. Henriquez in 2012, but ultimately decided to let the judicial process play out after he denied the allegations.
Henriquez was up for reelection later that year, and he beat two write-ins: perennial candidate Althea Garrison and Nanci Conklin Lawton, who was in the process of divorcing Barry Lawton. Henriquez picked up 1,346 votes, while Garrison received 63 votes and Lawton 40. Garrison ran again in the general election, losing to Henriquez, 9,179-2,564.
Material from State House News Service was used in this report.